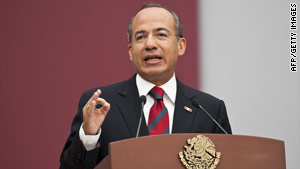 President Felipe Calderon says many American leaders have acknowledged a shared responsibility in drug violence.
STORY HIGHLIGHTS
Calderon says the end of the U.S. assault weapons ban gave criminals new resources
Mexico's president urges U.S. lawmakers to tackle immigration reform
He says the country's bicentennial festivities will continue as planned
The anniversary of Mexico's independence is September 16
Mexico City, Mexico (CNN) -- As Mexico approaches its bicentennial, Mexico's president says his country is fighting significant security problems -- many of which are fueled by U.S. policies.
"We live next to the world's largest drug consumer, and all the world wants to sell them drugs through our door and our window. And we live next to the world's largest arms seller, which is supplying the criminals," Mexican President Felipe Calderon told CNN en Español Friday.
Speaking less than a week before his country's bicentennial, Calderon discussed a wide range of topics, including immigration policy, his favorite Mexican independence hero, his Twitter account and America's role in Mexico's drug war.
He said many of America's leaders have acknowledged a shared responsibility in drug violence.
"But I think in American society, there is still not a sense of sharing responsibility, unfortunately," he said.
The 2004 end to the U.S. federal assault weapons ban gave criminals new resources, he said.
"They gained access to powerful firearms that they didn't have before," he said.
President Barack Obama and Secretary of State Hillary Clinton have repeatedly publicly acknowledged that the United States plays a role in drug violence.
"It's not only guns; it's weapons, it's arsenals of all kinds that come south," Clinton told the Council on Foreign Relations Wednesday. "So I feel a real sense of responsibility to do everything we can. And again, we're working hard to come up with approaches that will actually deliver."
Calderon, who began his six-year term in 2006 by announcing a crackdown on drug cartels, said discrepancies in U.S. drug policies can also cause problems south of the border.
"This inconsistency within their own policies causes a serious problem in Mexico, because their consumption doesn't decrease, and the violence here keeps increasing, precisely because the market is being disputed between the drug cartels, which are made up of Mexicans and Americans," he said. "Because don't come and tell me that organized crime ends at the Rio Bravo."
Calderon also urged U.S. officials to tackle comprehensive immigration reform.
"Millions and millions of people, as President Obama said, live in the shadows, and work and contribute and help American families, cleaning their yards, taking care of their children and giving them food," he said.
He said the 72 Central and South American migrants recently found killed in a Mexican border state were another reminder of the need to act.
"What really caught my attention was an editorial from an important newspaper in the United States, which concluded that, because immigration laws have not been dealt with, and because drug laws have not been refined...this has left the regulation of immigration and drugs to the mafias. And these killed migrants are a very clear expression of the consequences," he said.
But still, Calderon said he was optimistic about Mexico's future. He claimed the country had made significant headway combating poverty, and that he planned to work toward improving its economic competitiveness, education systems and national security.
"Even in this terrible moment of insecurity that we are living, I know that we are taking the firm steps that tomorrow will make Mexico secure," he said.
And the country's September 16 bicentennial festivities will continue as planned, he said, despite some critics' arguments that they should be canceled due to the risk of violence.
"What these people want is that we cancel our own lives and our own actions, to fill us with fear and paralyze us as a society and as a government," he said. "This is exactly what we must not allow."
Calderon said he was looking forward to the festivities, and pointed out that he shares a special connection with Mexican independence hero Jose Maria Morelos -- both hail from Morelia, Michoacan. He said he particularly admired Morelos as a military strategist who led Mexico's battle for independence, conquering parts of the country that were heavily fortified by Spanish troops.
In his current battle against Mexico's drug cartels, Calderon has deployed thousands of federal troops to some of the country's hardest-hit regions, including the violence-plagued border city of Juarez and his home state of Michoacan.
And as he tries to win more support for his strategies, Calderon has turned to more modern methods, such as his FelipeCalderon Twitter account.
"I'm new to this idea of Twitter, but the truth is, that it seems very interesting to me, and it allows me to do what I have always wanted to do: say things that are truly substantial in a few words," he said. "Because in the era we live in, people only listen to a few words."
Through his Twitter account Friday, he told followers he was being interviewed by CNN en Español.
CNN's Mario Gonzalez contributed to this report.