25 die in Mexican state on single day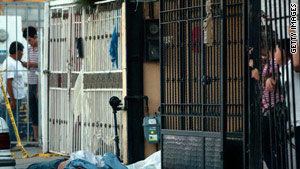 Officials say 14 of the deaths took place in three incidents over one hour.
STORY HIGHLIGHTS
NEW: Four members of one family shot and killed
Seven of 25 victims are women and girls
Three victims are teens
Three Mexican mayors have been killed in less than a month
(CNN) -- With 25 people killed in violent outbreaks, Thursday was one of Chihuahua state's deadliest days of the year, the state Investigations Agency said on Friday.
Seven of the victims were women and girls and two were 15 years old, said agency spokesman Arturo Sandoval. One of the males killed was 17, he said.
Additionally, Sandoval said, 14 of the fatalities took place in three incidents in one hour.
In the most violent incident, six people who had gathered outside a house were killed when several men opened fire with AK-47 rifles and 9mm guns. More than 70 shots were fired, and the victims -- ranging in age from 15 to 67 -- were found sprawled in the street.
In Juarez's Granjas de Chapultepec neighborhood, four members of the same family were shot and killed. Two older women were shot in the garage, and two teenage siblings were found in a closet.

Video: Juarez children learn survival skills
The Reuters news agency said it was the deadliest day in Juarez since 2008, when the raging drug war began in earnest.
Nearly 30,000 people have been killed in drug violence since the government's bloody war on organized crime began in 2006.
The drug cartels are now suspected in the deaths of three mayors in less than a month. The most recent, Mayor Alexander Lopez Garcia of El Naranjo in San Luis Potosi state, was gunned down in his office Wednesday, officials said.
FOLLOW THIS TOPIC