Mexican shootout leaves 25 drug suspects dead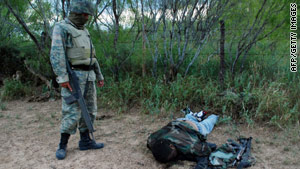 A Mexican soldier stands over one of the 25 drug suspects killed Thursday in a shootout in northeast Mexico.
STORY HIGHLIGHTS
Two soldiers also wounded in shootout in northeast Mexico
Military says a cache of weaponry is captured
Incident unfolds after anti-drug squad spots people with guns outside building
Mexico City (CNN) -- A shootout between soldiers and suspected drug dealers in northeast Mexico left 25 of the suspects dead, the regional military said Thursday.
After the fighting ended, soldiers captured a cache of weaponry and 23 vehicles, two of them painted to look like military vehicles, the military said.
The incident began when anti-drug forces flying over Ciudad Mier, south of the Rio Grande, observed armed people in front of a building, the military said.
Once they saw they were being observed, the armed people drove off, the military said.
Soldiers were dispatched on the ground. When they approached the building, they were greeted with gunfire and responded with their own, the military said.
The soldiers also freed three people whom the suspects were holding, the military said.
Two of the soldiers were wounded.
FOLLOW THIS TOPIC