STORY HIGHLIGHTS
Trapped miner's wife is due to give birth to daughter in two weeks
"I can't cry because, if I did, the baby would feel everything"
She plans to videotape the birth, baby's early days so dad doesn't miss them
Copiaco, Chile (CNN) -- The ordeal of waiting for a miner trapped 2,200 feet below ground in Chile to be rescued can be perhaps more anguishing if you're also waiting for a minor to emerge.
That's the case with Elizabeth Segovia, who discovered August 4 by looking at a grainy ultrasound that she and her husband, Ariel Ticona, were expecting a girl.
The next day, the mine where Ticona was working with 32 other miners caved in. "My world just collapsed," said Segovia. "I couldn't react. I just cried and cried."
But all the men survived the cave-in and appear to be surviving their forced detention. Since then, they have been nourished physically and mentally by what rescuers can cram into a sort of umbilical cord -- a 4-inch-wide tube that has carried to the miners everything from food to beds -- deep into the Earth.

Video: Video emerges from Chilean mine

Video: Small camera, big job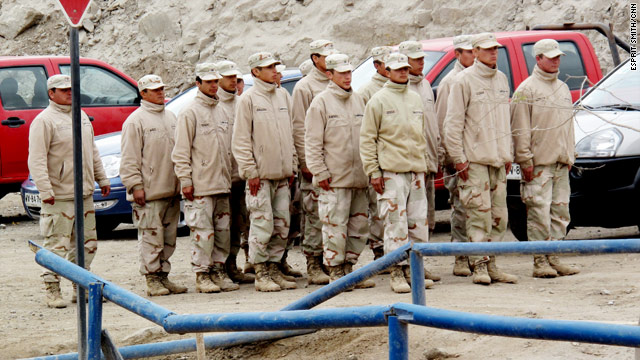 Gallery: Rescue efforts for Chilean miners
Now Segovia dares not cry, lest it adversely affect her fetus. "I've been talking to her and telling her Daddy's OK," she said. "I can't cry because, if I did, the baby would feel everything."
The tube has carried life-affirming news in both directions, too. A few days after seeing her daughter on flickering ultrasound images, Segovia saw her husband on video that the miners shot by the flickering lights mounted on their mining helmets, then packed into the tube for the journey upward.
Old-fashioned communication still has a place here, too. On Thursday, Segovia got a handwritten letter from Ticona proposing they name their daughter Esperanza Elizabeth -- esperanza is Spanish for hope.
"First, because we never lost hope; second, because it's the name of the camp where the families are living; and third, because the 33 miners never lost hope either," she said.
With her daughter due to arrive in less than two weeks, and her husband due to arrive in perhaps four months, Segovia plans to make a video of the birth to ensure he doesn't miss it altogether.
"We have to record the birth in great detail, as well as everything that happens to my baby day by day so we can show him," she said.
The couple already have two sons -- age 5 and 9 -- who miss their dad. "I love you a lot and I hope nothing bad happens to you in the mine," said Jean-Pierre.
"Be well, Daddy, and I hope they send you good food," said Steven.
On Thursday, the subterranean menu of three meals and two snacks lowered through the metal umbilical cord included bread with ham and turkey, wine cookies, stroganoff with pasta primavera, peaches in juice, nutritional supplements, bread with caramel spread, chicken in sauce and plantains.
More than their nutritional needs are being met. Miners' families told CNN that the San Esteban Mining Company has continued to pay the miners' salaries -- on the 15th and 30th of the month.
FOLLOW THIS TOPIC