Mexican massacre survivor returned to Ecuador, officials say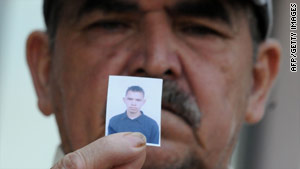 Gabriel Ortiz, father of a massacre victim, awaits word on the return of his son's body Monday in Tegucigalpa, Honduras.
STORY HIGHLIGHTS
NEW: The young man was reportedly taken to a secure location to continue his recovery
The man was wounded and played dead before getting away
The victims came from Guatemala, El Salvador, Honduras and Brazil
The bodies of 72 people were found last week in Tamaulipas state
Mexico City, Mexico (CNN) -- The sole survivor from last week's massacre of 72 Central and South American migrants in northern Mexico has been released from a hospital and returned to his native Ecuador, Mexican officials said Monday.
The survivor, whom officials have not identified, was turned over to high-level Ecuadorian officials at the navy secretary's hangar in Mexico City, the Mexican interior secretary's office and the Foreign Ministry said in a joint release.
A photograph published by the government-run Notimex news service showed a stretcher being hoisted aboard an airplane with Ecuadorian markings.
The young man apparently was taken to a secure location to continue his recuperation.
William Murillo, a former Ecuadorian national secretary for migration, said he spoke Monday with the victim's aunt, who told him the young man's wife and grandmother had left for an undisclosed location Saturday. The aunt said she didn't know where they were.
The young man was wounded in the attack and said he survived by playing dead. He later walked several miles to a military roadblock near the town of San Fernando in Tamaulipas state, less than 100 miles from the U.S. border.
Officials are investigating whether members of the Zetas drug cartel were responsible for the deaths.
The 72 victims will be returned to their homelands: Guatemala, El Salvador, Honduras and Brazil.
In a related matter, Mexican prosecutors said they have arraigned for 40 days an 18-year-old man who was captured at the ranch where the bodies were found. Under Mexican law, suspects can be held for 40 days before charges are filed.
The suspect was identified as Eduardo Rico Perez.
Presumed criminals at the ranch escaped after getting into a firefight with Mexican navy personnel who went to investigate.
Officials reported Friday that the lead investigator in the case was missing and presumed abducted.
CNN's Nick Valencia contributed to this report.
FOLLOW THIS TOPIC