STORY HIGHLIGHTS
NEW: Key equipment for drilling a rescue shaft to arrive Tuesday
The effort to rescue the miners may take up to four months
NASA specialists are set to arrive this week to offer support
Chilean official says miners were sent vaccines against possible illnesses
(CNN) -- Chilean officials were awaiting the arrival of a main drill and other equipment to begin boring a rescue shaft in a months-long operation to reach 33 miners who have been trapped underground for more than three weeks.
Although drilling had been expected to start as early as Monday, officials said the key equipment was expected to arrive at the mine Tuesday, and some excavation of the drilling site would have to take place.
The effort to drill through more than 2,300 feet (700 meters) of rock and safely extract the miners could take three to four months, officials said.
The miners have been stuck in the mine since an August 5 cave-in and are surviving on supplies funneled to them from above ground through three bore holes, each about four inches in diameter.
Rescue officials said Monday they plan to send down food -- including sandwiches and hot food -- over the next few days. There are also plans to send down more beds, which is a slow process, said Ximena Mata, the Chilean government's point person.
Until now, the men living in what they have dubbed "Refuge 33" have been surviving on liquids.
The mining company said Monday that all the miners were in good spirits and were looking forward to the promised solid food.

Video: A father's sacrifice

Video: Mine marriage proposal

Video: Training school for trapped miners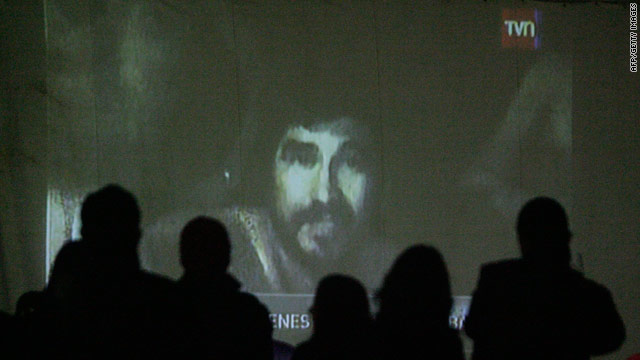 Gallery: Rescue efforts for Chilean miners
Meanwhile, a four-person team from NASA is set to arrive in Chile this week to help provide physical and behavioral health support to the miners. NASA has a long history of studying human behavior in isolated environments, said Michael Duncan, the U.S. space agency's lead person on the Chile effort.
Chilean Health Minister Jaime Manalich said a medical official, a nutritional medic, a psychologist and an engineering expert in logistics from NASA will stay at the mine from Wednesday through Friday to help.
"I do not imagine, like I saw a cartoon in a daily newspaper, that NASA will be setting up an area with no oxygen and no gravity where the miners will be floating about ... but you never know," Manalich joked.
The miners spoke directly with family members for the first time Sunday, as officials worked to keep the men's spirits and health in good shape.
One person per family was given about 20 seconds each to talk through a line that was rigged to connect the miners with life above ground.
"He's good, very good. He told me to be patient and to have faith," Antenor Barrios, father of one of the trapped miners, said after talking to his son, Carlos.
Family members have mounted a constant vigil in a tent city -- dubbed Camp Hope -- outside the copper and gold mine in the Chilean desert. About a week ago, miners first sent up a written message telling rescuers they had been safely huddled in a shelter deep underground.
One of the miners, Esteban Rojas, sent a letter to his wife soon after the men were discovered alive, asking her to renew their vows in a church ceremony. The two were married in a civil ceremony and have been together for some 25 years.
"I was worried he might not mention it again, but he said we should get married in church. He'd asked me if I've already chosen the dress," said Jessica Yanez, after talking to her husband on Sunday. "Of course I told him we would get married."
But the couple will have to wait, possibly until December -- when the miners are expected to be rescued.
"We are looking at other options, but the most important thing is that we don't have any failures and that we can rescue them at least within that period," Chilean Mining Minister Laurence Golborne told reporters.
But a group of engineers have said they have a "Plan B" that could halve the time it would take to reach the miners.
Walter Herrera, quality control and risk manager for the Chilean mining company GeoTech, has said his company was bringing a specialized device -- a Scram T-130 drill typically used for boring water holes -- to the San Jose mine.
Herrera said his plan hinges on using one of the three bore holes already made. The drill would use that hole as a pilot and widen the diameter to about 28 inches, which officials have said is wide enough for the miners to be hoisted through.
"We think it could be quicker than the other plan. In ideal conditions, this could take around two months," Herrera said.
The Chilean mining minister has not ruled out the alternative plan, but has cautioned it might not work. He has also said it might not be put into operation.
Officials said both efforts -- to drill a rescue shaft and widen a bore hole -- could be carried out concurrently.
To help the miners cope, Golborne said rescuers are sending down aluminum bed frames, towels, hot-weather clothes that wick away sweat, shampoo and shower caps. MP3 players, speakers and a mini-TV projector -- along with recordings of soccer games and other films -- are also on the way, he said.
Manalich told reporters on Sunday the miners were sent vaccines to protect against diseases like diphtheria and tetanus. He said the risk of infection among the men is high as they are crammed in such a small space. Some of the miners are having problems with skin fungi, Manalich added, and there's a high risk that they could contract lung infections.
The miners have been sent rubber boots as well as chlorine to purify water from underground sources, Manalich said.
He said the miners have a video camera underground and are filming each other to show injuries they sustained during the cave-in. The images should help doctors diagnose and treat the men, though no one is thought to have incurred serious injuries.
CNN's Esprit Smith contributed to this report.
FOLLOW THIS TOPIC