As Mexicans mourn slain migrants, explosive goes off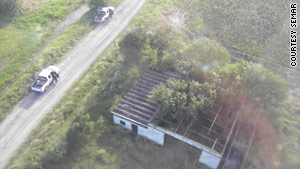 The bodies of 72 migrants from Central and South America were found in a ranch in northern Mexico
STORY HIGHLIGHTS
A minister leading a Catholic Mass condemns the recent violence
A congressman says federal officials need to take over the investigation of 72 slain migrants
A state investigator and a municipal police officer went missing Wednesday
(CNN) -- An explosive device detonated Saturday three blocks away from a Mass honoring 72 migrants found slain near the Mexican border, state media reported.
Three people were injured in the explosion in the city of Reynosa, the state-run Notimex news agency reported. Mourners were gathered nearby at a service for the 72 migrants from Central and South America whose bodies were found this week in a ranch in northern Mexico.
"We condemn these types of acts, that violate social peace and cruelty harm human beings, offend other nations, whose only error is not to have enough resources to retain their citizens, who leave in search of a better way of life," Father Pedro Contreras Hernandez said during the mid-day mass, according to Notimex.
Officials are investigating whether they were the victims of human traffickers or drug cartels that prey on migrants.
State authorities said Saturday that the lead investigator on the case remained missing, Notimex said. The state investigator and a municipal police officer went missing Wednesday.
On Saturday, a Mexican congressman asked federal authorities to step in.
Notimex reported that Ardelio Vargas Fosado, who heads the national defense committee in Mexico's congress, called for the federal Attorney General's Office to take over the homicide investigation, which state prosecutors are currently handling
"This death of 72 people cannot be another serious example of the slowness of an ongoing investigation," he said. "The Mexican state must react to this brutal act of criminal organizations."
CNN's Nick Valencia contributed to this report.