STORY HIGHLIGHTS
NEW: Miners show signs of humor, patriotism
Trapped workers make 25-minute video featuring messages
A shift leader is fulfilling a leadership role
A man with nursing experience is carrying out rudimentary medical and psychological tests
Copiapo, Chile (CNN) -- The 33 men trapped deep in a mine in Chile since August 5 sent a video message to their families Thursday in which they expressed thanks for the efforts under way to free them and displayed occasional flashes of humor and patriotism.
"We know what you've all been doing for us," said one man. "You haven't left us alone. We want to send applause to you." At that, the men broke into applause.
Throughout the 25-minute, high-definition video, one miner guided the hand-held camera ahead of him, its path illuminated by the light on his mining helmet. The video views are grainy and sometimes out of focus.
The video shows the 50-square-meter living space occupied by the men since they were trapped 2,300 feet below ground. Some appear heavily bearded, all of them are stripped to the waist. A thermometer shows 29.5 degrees, (85.1 degrees Fahrenheit) a little cooler than officials had estimated.
Some of the men are standing, others are lying down. "Oh, you're sleeping on a box-spring bed," jokes one man to another, who is sprawled out on a pile of rocks.

Video: Chile mine rescue to last months

Video: Trapped Chilean miners on video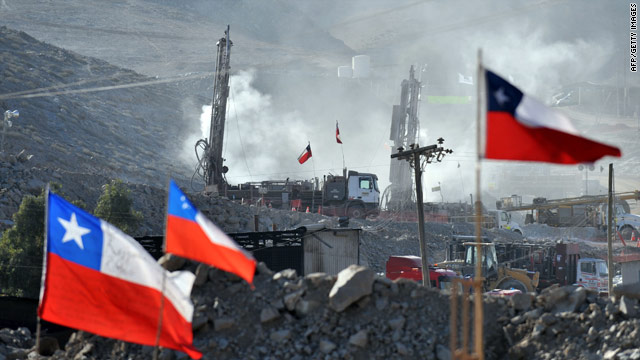 Gallery: Rescue efforts for Chilean miners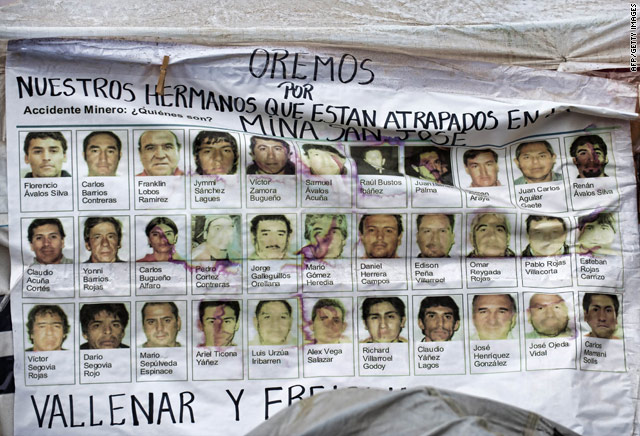 Gallery: The trapped miners
On a crate sits a set of dominoes, on a wall are two first-aid boxes. Nearby are two stretchers.
For a few seconds, the camera lingers over a picture of a topless woman on the wall.
It is difficult to get an impression of how cramped the living quarters are because the camera showed no wide shots.
As the camera focuses on individual miners, some put their fingers up in a "V" for victory. Asked by the cameraman what they wanted to say, others appeared almost shy and simply smiled. One man put his hand to his face, apparently dazzled by the light.
"This is for my wife Lila, for my children and for my grandchildren," said Mario Gomez, 63, the eldest of the miners and the group's spiritual leader.
Said another to his family: "Be calm. We're going to get out of here. And we thank you from the bottom of our hearts for your efforts." At that, the other miners again broke into applause.
That theme was picked up by others. "We're sure that there are people here in Chile that are big people, that are powerful people, that are intelligent people, and they have the technology and they will all work together to get us out of here," said another.
The tenor of most of the comments was calm, though one man's emotion cut through to the fore. "Thank you to everybody," he said. "I send you a big hug in the name of our Lord." As he spoke, his voice cracked.
Yet another miner praised his fellow inmates. "We have had the great fortune that trapped in this mine there are good, professional people," he said. "We have electricians, we have mechanics, we have machine operators and we will let you know that while you are working to rescue us on the surface, we are down here ready to help you too."
Out of the view of the camera, as one miner finished his message, another could be heard saying, "Get us out of here soon."
The video ends with the miners singing the Chilean national anthem. All appeared to be trying to hold their heads high. As they ended the song, they broke into chants of "Chile! Chile! Chile!"
Family members who saw the video in a private screening said their loved ones appeared thin, but healthy and in good spirits. Several said many of the relatives cried as they watched and listened.
Earlier, officials had said the men were adopting various roles to help them through their ordeal. A shift leader at the San Jose copper and gold mine is fulfilling a leadership role and another man with nursing experience is carrying out basic medical and psychological tests.
Gomez, with more than 50 years' experience under his belt, has emerged as a spiritual leader on whom others can depend for support, officials said. He has asked that religious figurines be lowered into the mine so that he can set up a shrine.
One miner, an Elvis Presley fan, was expected to lead the group in singalongs.
Officials are splitting the men into two shifts so one group sleeps while the other works or has leisure time.
Doctors have given the men advice about how to keep their limited living space clean: Portions of a 1-meter-high (3.3 feet), 40-meter-long shaft (131 feet) are being used as a latrine.
It is connected to the main 50-square-meter cabin, which is being used for sleeping, washing and praying.
The men's sole lifeline to the outside world is a tube approximately 8 centimeters (3.2 inches) in diameter, through which food, water, clothing, video and radio equipment and whatever else is needed are stuffed.
Health Minister Jaime Manalich told reporters Thursday that, on average, each man has lost 22 pounds (10 kilograms) since they became trapped three weeks ago, and dehydration remains a threat.
But a survey of the men indicates that at least nine miners are still too overweight to fit through the proposed rescue shaft, he said.
Initially, the miners survived by draining water from a water-cooled piece of equipment. To stay hydrated in the 90-degree mine, each miner must drink eight or nine pints of water per day.
What and how much the miners eat and drink is being monitored by officials.
The expected duration of the three- to four-month delay before their anticipated rescue has not been made clear to the miners. Chilean President Sebastian Pinera told the miners on Tuesday that they would not be out before September 18, Chile's independence day, but would be out before Christmas.
He told a Bolivian miner that he plans to meet in late November with Bolivia's president, and promised to invite the miner to accompany him.
Manalich passed along the president's remarks to reporters on Wednesday, speaking to them via speaker phone.
But authorities said it could be too much of a psychological blow to divulge to the trapped miners that the cramped space could remain their home until the end of the year.
Manalich said the president's comments were part of an ongoing effort to gently and methodically break the news that the rescue will take a long time.
Asked why the miners weren't told specifically how long it will take, he replied, "We don't have the correct psychological diagnosis about how the situation is down there."
Another survey found that three or four of the miners are showing signs of anxiety and depression, Manalich said.
Meanwhile, recriminations have already begun. A lawsuit filed on behalf of 27 families of the trapped miners accused San Esteban Mining Co. of attempted murder.
And lawyer Remberto Valdes said he was filing a suit on behalf of the family of trapped miner Raul Bustos alleging negligence by government officials in the nation's mining and geology service, Sernageomin, and against the owners of San Esteban Mining Co.
Both suits allege that the mining company violated state laws in failing to provide sufficient security.
The mine reopened in 2008 after a yearlong closure without the proper safety measures being put in place, including measures to shore up the rock face, Valdes said. The pro bono case could take two years to resolve, he said, adding that he has asked the judge in the case to freeze the company's assets during the litigation.
Government officials told CNN that the mine had no secondary escape route and there was no ladder in the ventilation shaft that the miners might have used to reach safety.
There was no response from the mining company.
FOLLOW THIS TOPIC