Bolivian protests prompt U.S. travel alert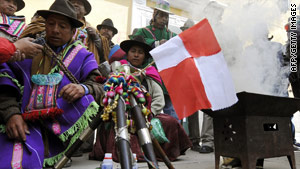 "Quechua Amautas" perform a ritual during protests against the government over a land dispute in Potosi.
STORY HIGHLIGHTS
The State Department issues a travel alert for Bolivia
Massive protests in Bolivia are entering their third week
Alert asks U.S. citizens to avoid protest areas and roadblocks
Washington (CNN) -- The U.S. State Department on Thursday issued a travel alert for U.S. citizens living in or visiting Bolivia because of the massive protests in the country's southwest.
The travel alert says Bolivia is suffering "unstable social and security situations" in several regions.
Protesters in the cities of Potosi, Oruro and Uyuni have set up roadblocks that don't allow anyone in and out of these places, the State Department said.
In Potosi, the blockade has entered its third week. The protesters say that the government of President Evo Morales has not invested enough in the region. They demand new roads and construction of a modern airport and a cement factory.
The protesters in Potosi province, which includes the cities of Potosi and Uyuni, are also in a boundary dispute with the province of Oruro.
"Thousands of people, including several hundred tourists, have been trapped by the roadblocks for as long as 16 days," the State Department said. "Food, water and medical supplies in these regions are limited and looting is considered likely."
The protesters are using dynamite and hunger strikes to call attention to their demands, the travel alert states.
The Bolivian government has publicly defended itself from the allegations made by the protesters and has said it will avoid using force to end the blockades.
The alert asks Americans to avoid traveling to the protest areas and to avoid roadblocks.
"U.S. citizens in those regions should maintain a low profile and limit their movement until the situation subsides," the alert states.
FOLLOW THIS TOPIC