Military jury recommends a 14-year sentence for bin Laden's driver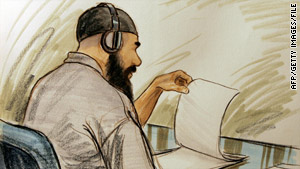 U.S. authorities say Ahmed Mahmoud al Qosi was deeply entrenched in al Qaeda operations.
STORY HIGHLIGHTS
NEW: Defense Department acknowledges the sentence could be reduced
Al Qosi will remain at Guantanamo while his sentence is decided
A military jury recommends a 14-year sentence for bin Laden's driver
A plea deal could result in a shorter sentence for the Guantanamo Bay detainee
Guantanamo Bay, Cuba (CNN) -- A military jury at the U.S. detention facility in Guantanamo Bay, Cuba, on Wednesday recommended a 14-year prison term for Ibrahim Ahmed Mahmoud al Qosi, a Sudanese man who served as cook and driver for Osama bin Laden.
Al Qosi sat quietly while the sentence was announced at a military commission trial. Dressed in prison-issued white clothes and cap, he confirmed through an interpreter that he had understood the recommended sentence and the proceedings.
He previously pleaded guilty to charges of conspiracy and providing material support for terrorism. A plea-bargain agreement kept private so far could result in a shorter sentence than the 14 years recommended by the jury.
Prosecutors argued al Qosi was at the heart of al Qaeda operations, while his defense team said he was a low-echelon cook and driver.
The military jury had to decide on a prison term ranging from 12 to 15 years without knowing details of al Qosi's guilty plea and plea bargain agreement.
For now, al Qosi will be held at Guantanamo Bay for at least the next 60 days while authorities work out questions involving the plea-bargain deal and whether his nine years in custody so far will count against his sentence.
A Defense Department statement Wednesday said al Qosi would not receive credit for the time spent in custody so far. However, the statement said the case now goes to the Convening Authority for Military Commissions.
"The Convening Authority may reduce, but not increase, al Qosi's sentence," the Defense Department statement said. "After reviewing the record, the Convening Authority will take final action on the findings and sentence, announcing the sentence that al Qosi will serve."
The major question in formulating a plea deal was whether al Qosi will be allowed to serve his sentence in Guantanamo's Camp 4. That location has lower security than other prisons and allows the convicted detainees to mingle with the general prison population.
Under international law and U.S. policy, detainees who have not yet been tried must be kept separately from those who have been convicted and sentenced.
Sentencing had been suspended on Tuesday over the detention issue. Air Force Lt. Col. Nancy Paul, the military commission judge, said those responsible for holding al Qosi now and in the future were not properly informed about a plan to keep him in Camp 4.
But she said Wednesday that the commission proceedings could continue after receiving assurances from a government lawyer that the use of Camp 4 was a recommendation and not a final agreement.
Just before banging her gavel to end the military trial, Paul reminded the lawyers that they had been working on the case since April 2008 -- before revisions in how such proceedings would be conducted.
"We have made law and we have made history," Paul said. "We have done our best."