Rescuers strive to reach trapped miners in Chile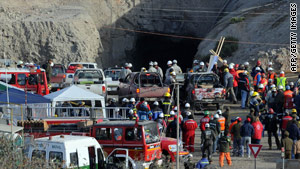 Rescuers, miners and relatives gather at the entrance to the San Esteban mine.
STORY HIGHLIGHTS
Emergency officials say rescue efforts were interrupted by another cave-in
At least 33 workers are trapped, officials say
Chile's president says the government will do "everything humanly possible" to save them
(CNN) -- Rescuers will use machines Sunday to try to reach 33 workers trapped in a caved-in mine, emergency officials said.
The miners have been trapped since late Thursday, the country's National Emergency Office said. Their conditions are unknown.
Rescuers faced a significant setback Saturday when another cave-in blocked the path they were trying to use to reach the miners, the office said.
Local media reported that the workers may be in a shelter inside the mine.
Chilean President Sebastian Pinera traveled to Copiapo, the city where the mine is located, Saturday night to meet with officials there.
"We are going to do everything humanly possible to rescue alive the 33 people who are trapped. In this there will be no hesitation and a total commitment," he said, according to a statement posted on his office's website.
The San Esteban mine is in the Atacama region in northern Chile.
FOLLOW THIS TOPIC