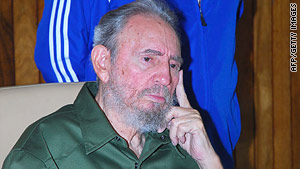 One observer said that Fidel Castro "may feel that his legacy is being lost" in Cuba.
STORY HIGHLIGHTS
Fidel Castro reappeared this summer after being mostly absent for four years
He suffered massive intestinal problems in July 2006 that required several operations
He turned power over to his brother in 2006 and resigned as president two years later
Since resuming public appearances in July, Castro has talked about nuclear war
(CNN) -- In case anyone questioned the permanence of Fidel Castro's recent return to the national stage, this should answer doubts: The former Cuban leader has called the National Assembly into special session Saturday.
For four years, Castro kept out of sight as he recuperated from a life-threatening intestinal illness that required multiple surgeries.
He temporarily ceded power to younger brother Raul in July 2006 and resigned as president in February 2008. He wrote a column called "Reflections" while recuperating and sometimes would be seen in photos when a foreign dignitary like Venezuelan President Hugo Chavez would visit.
But that was all. He was mostly out of sight, if not forgotten.
That reclusive lifestyle ended in mid-July, when photographs of Castro visiting the National Center of Scientific Investigations surfaced on a pro-government blog. A few days later, Castro appeared on a Cuban TV show called "Roundtable."
Since then, he has made several public appearances, including at an unveiling ceremony for his latest book, "The Strategic Victory."
Now Castro, who turns 84 on August 13, has called the National Assembly into special session. The assembly will discuss world affairs, in particular what Castro views as an imminent nuclear war involving the United States, Iran and North Korea. Castro has dwelt on that topic since resurfacing last month.
There is widespread speculation that Castro will attend the session and might even speak, though none of that had been confirmed Friday.
Raul Castro also announced a major economic shift this week, saying that more Cubans would be allowed to work for themselves and that about 1 million government jobs would be eliminated in the next five years.
Fidel Castro announced July 26 he would convene the special session and confirmed it Wednesday, after his brother's economic announcement.
Analysts point to several reasons for Castro's sudden return, most prominently his physical recuperation.
"His health is better," said noted Cuba scholar Louis A. Perez Jr., who has written more than 10 books about the island nation.
Wayne Smith, who was the top U.S. diplomat in Cuba from 1979 to 1982, also said he believes Castro has "recovered enough that he can do this."
That view is shared by Bruce Bagley, dean of the Graduate School of International Studies at the University of Miami.
"He got very sick," Bagley said. "It took him a long time to recover. He was physically incapacitated and the recovery period was difficult."
Others are not so sure Castro has recovered all that much.
"I personally do not buy that he is this phoenix of health," said Ann Louise Bardach, author of the 2009 book "Without Fidel: A Death Foretold in Miami, Havana and Washington."
"None of the pictures, none of the footage we have seen of Fidel have been live," said Bardach, who has interviewed the Castro brothers several times throughout the years and has written extensively about them. "All we have are images that are provided by the Cuban government."
It's quite possible, Bardach said, that those images have been manipulated.
"To think they're not improving them is very naive about how Cuba works," she said.
Bardach, who details Castro's illness in her book, notes what she believes is the severity of his health problems.
"He's had a colostomy, no question," she said. "He's missing a colon, gall bladder, pancreas. He's maybe on [kidney] dialysis. That's a lot of things you have to do before you go out the door."
Castro has declined to reveal his health issues, saying that would only strengthen his enemies.
Rather than improved health, Bardach sees another reason for Castro's re-emergence.
"Fidel does everything out of ego," she said. "He is the movie star dictator. He does not want to leave the stage.
"It's been agony for him to be medically recused."
Some analysts see an ideological sibling rivalry at work, with the idealistic Fidel Castro trying to reign in recent policy shifts by his more-pragmatic brother.
When President Barack Obama took office in 2009, Raul Castro said he was ready to talk with the United States and put any issue on the table.
"We have sent word to the U.S. government in private and in public that we are willing to discuss everything -- human rights, freedom of the press, political prisoners, everything," Castro said in April 2009.
"We could be wrong. We admit it. We're human beings," he said. "We're willing to sit down to talk as it should be done, whenever."
Fidel Castro wrote a column a few days later saying that Obama "misinterpreted" Raul's comments, which analysts took as a rebuke of his brother's conciliatory statements.
Coincidence or not, Fidel Castro's reappearance this summer occurred about the same time Raul Castro worked out a deal with the Roman Catholic Church and Spanish diplomats to release 52 political prisoners by year's end.
"This is Fidel asserting dominance," said Bardach, who said Raul "without a doubt" is constrained by Fidel.
Furthermore, she said, the elder Castro is not eager to repair the nearly 50-year-old shattered relationship with the United States, which broke diplomatic relations with Cuba and imposed an economic embargo in the early 1960s.
"He's sabotaged everything with Washington," she said. "That was his goal."
Cuba, struggling with dire economic circumstances, needs the trade embargo for internal political reasons, Bardach said.
"They can't have the embargo end too soon because who would they blame," she said.
Smith, the former diplomat, also finds something peculiar about Fidel Castro's resurfacing.
"It's very interesting because he and Raul never appear together," Smith said.
The University of Miami's Bagley believes Fidel Castro "may feel that his legacy is being lost" by his brother's initiatives.
"He is sending a chastening message to his brother, Raul, who has been singularly quiet," said Bagley.
The result, he said, is "that it's going to set back any internal reform efforts."
But Cuba scholar Perez downplays any possible rift between the brothers.
Fidel Castro "has always been very good at preventing division," Perez said. "He's always seen the danger of division."
Perez points out that Fidel Castro has stayed away from commenting about domestic policy and is focusing on international issues.
"He's moving toward becoming an ambassador-in-chief at large," Perez said.
Castro also may be racing against his mortality.
"He's trying with the time he has left to leave a mark," Bagley said. "Fidel feels his voice may and should be heard."
There's also another reason both Castros may be acting now.
"They're in bad shape economically and that causes public discontent," said Smith. "People there have cell phones now. The Cuban population is not as contained, blinded and closed off as they once were.
"They almost have to do something to give the appearance that they are responding."
With a national median age of 38 years, the vast majority of the nation's more than 11 million citizens were born after the Castros came to power in 1959. For many of them, the revolution has grown tired -- and tiresome.
"Times are tough in Cuba," Bagley said. "There's a growing feeling that the revolution has lost its way. Young people don't believe in it."
Whether the return of an elderly revolutionary from his sickbed will make any difference remains to be seen.
FOLLOW THIS TOPIC