STORY HIGHLIGHTS
Brazilian artist Ernesto Neto is internationally known for interactive sculpture
His art works on the senses and the viewer is encourage to touch, sniff and walk inside them
His work centers on ideas of sexuality, self-expression and how society functions
Brazil's informal culture is a big influence on Neto's work
London, England (CNN) -- He comes from one of the most seductive cities on earth and makes art that demands to be touched, yet Ernesto Neto wishes the world was less sexy.
Being "sexy," according to Neto, one of Brazil's leading artists, is all about the kind of time-poor, rule-bound city living typified by big world capitals like New York and London.
"You gotta do everything, you gotta be on time, you're selling a lot ... telephone never stops, you know, wow, high heels, lipstick, you are very ... on the edge of the world," the Rio de Janiero native told CNN.
A product of Brazil's more relaxed culture, Neto thinks life should be less formal, more human; that people should pause, take a step back and experience the world around them.
It's something he equates with being more sensual: "When you are sensual," he told CNN, "you are more slow ... there is a balance, there is a timing, a loosening that makes it feel more sensual."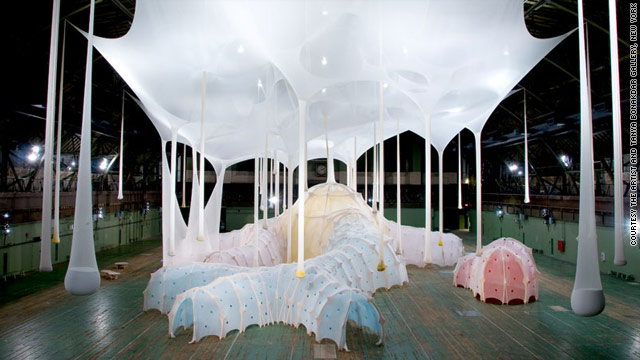 Gallery: Biomorphic sculpture
It's ideas like this -- sexuality, self-expression and how humans interact -- that sit at the core of Neto's art: Interactive multi-sensory sculptures that invite the viewer to touch, sniff, pick up, lie on and walk inside them.
Over the past 20 years, he's made a name for himself, both at home, where he is considered one of the leaders of the Brazilian art scene, showing up-and-coming young artists at his gallery A Gentil Carioca, and internationally, exhibiting across the world.
Neto works with fabric, and has done since the late 1990s. He uses the same polyester material hosiery is made from -- often filled with stones, sand or rice to form organic, amorphous shapes and long blobs he calls "fabric stalactites." At times he scents his work, stuffing the material with herbs and spices such that fill the air with a heady perfume.
His sculptures range from small wall-hangings to the arrestingly large.
His works have immediate appeal ... They're extremely tactile and ... quite sensual. They invite you to interact with them
--Cliff Lauson, curator
In 2006, he filled the classical space of the Pantheon in Paris with fabric stalactites hanging down like blobs of viscous liquid in a piece called "Leviathan Thot."
His reputation is such that, in 2009, "anthropodino" was the first specially commissioned installation at the newly opened Park Avenue Armory gallery in New York. His latest exhibition, The Edges of the World, is on at London's Hayward Gallery.
"Brazilian art has actually been, not quite a well-guarded secret, but ... one of the most exciting places for contemporary art for at least the past 50 years," Dr Cliff Lauson, curator of The Edges of the World, told CNN.
"Ernesto's work is really a part of that and is respected to acclaim internationally," he continued.
The Edges of the World is typical of Neto's recent work, using stretchy, translucent fabric pulled over a skeleton of clip-together plywood. The sculptures form an otherworldly series of gauzy candy-colored tunnels and chambers, whose walls are filled with pockets of camomile flowers, lavender and cumin.
Neto has a playfulness that encourages gallery-goers to disregard the usual formality of the gallery setting, where security guards hover and the unspoken rule is "Do not touch."
"[His works] have immediate appeal ... They're extremely tactile and ... quite sensual. They invite you to interact with them," Lauson said.
The sculptures also, perhaps, consider on a more intellectual level some of the unspoken social rules that bind their own lives.
Lauson said: "One of the interesting things ... is how layered all of these things are with various meanings ... He's quite an intellectual artist ... intellectually playful."
The question of informality is a key thing in Rio de Janeiro and in Brazil.
--Ernesto Neto
Some of that playfulness is a reflection of Rio's laid-back culture: "The question of informality is a key thing in Rio de Janeiro and in Brazil," said Neto.
"We have the street sellers; they are sometimes fighting with the police who want to clean up everything. We have the favellas -- they are informal residences ... they are not in the law, they don't pay taxes.
"You don't find it in Europe. You know, because everybody has money, everybody has good jobs, the police doesn't let it [happen], it's very objective, the culture," he added.
It's something that inspires Neto to such an extent that he had hoped to put some street sellers into his latest exhibition.
"I was supposed to have some guys coming here and there, 'Hello! Got coconut, coconut! You wanna cookie, cookie? Eh? Soft drinks! Soft drinks!' You know, moving around the space as a performance."
In the end, it was too complicated to put that slice of Brazilian life into his London installation. But he's working on it and it's not like he hasn't done it before -- and more startlingly.
In 2000, he married his eight-month pregnant girlfriend, Lili in Rio's Museu de Arte Moderna in a piece called "O Casamento--Lili, Neto, Lito e osloucos" ("The wedding--Lili, Neto, Lito and the mad ones)."
As Neto said, life should be more sensual: And it would seem that he practices what he preaches.
FOLLOW THIS TOPIC