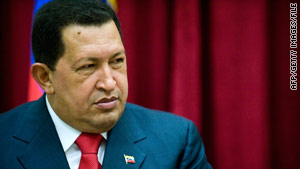 Venezuelan President Hugo Chavez was quoted as saying Twitter is "another mechanism for contact with the public."
STORY HIGHLIGHTS
NEW: Asking Venezuelan leader for help was "a last recourse," one person tells CNN
NEW: Chavez had more than 674,000 followers Tuesday
A team of government workers processes pleas for help, Chavez said
Chavez also receives criticism on Twitter -- and often answers, also on Twitter
(CNN) -- Venezuelan President Hugo Chavez says his government has received nearly 288,000 requests for help from citizens through his 3-month-old Twitter account.
The controversial leftist leader signed onto Twitter in late April and has more than 674,000 followers. He added more than 1,000 Tuesday.
His address is @chavezcandanga. "Candanga" means "devil" in Spanish, but in Venezuelan slang, it also can mean someone who is tireless or blunt.
Chavez's Twitter bio identifies him as "president of the Bolivarian Republic of Venezuela, Bolivarian soldier, socialist and anti-imperialist."
Chavez follows six accounts, one of them dealing with former Cuban President Fidel Castro, a strong ally.
Speaking at an official function Monday, Chavez said he had received 287,921 pleas for help through Twitter, the state-run AVN news service reported. A team of government workers processes each case, Chavez said.
"It's another mechanism for contact with the public, to evaluate many things and to help many people," Chavez is quoted as saying.
Among the requests for help, Chavez said, 19,000 were for employment, 17,000 for a place to live, 12,000 for credit and 7,000 for legal aid.
Chavez also said he has received 139,000 favorable messages offering support, 88,000 complaints against someone and 66,000 unfavorable or critical messages.
A Twitter plea Monday night seems typical of several found on Chavez's account.
A person who says she's 14 years old asks the president for help because her father has been out of work for nearly a year and her four-member family has been forced to move in with an aunt, where they must sleep in one of the home's three rooms. There are eight people in the house, and the aunt wants them to leave, the teen wrote in dozens of tweets, each of which is limited to 140 characters.
She lists a telephone number where Chavez can reach her.
Chavez answered with a tweet, instructing the government's commune and social protection minister, Isis Ochoa, to "urgently call this adolescent friend."
No one from the government had called by Tuesday afternoon, said the teen, whose name is Lohana Avirla.
Asked if she believes someone will call, she said, "Of course. I expect his help."
The teen's mother, Lluneidis Avirla, said she also expects assistance.
"Truthfully," she told CNN, "our situation is sufficiently bad that it's necessary that he help us."
Having her daughter tweet Chavez was "a last recourse," the mother said.
The girl said she sent tweets to Chavez for about a month before he answered.
Chavez also comes under criticism in his account, and he often answers those comments, too.
One person wrote Monday night to ask why Chilean observers will monitor Venezuelan parliamentary elections in September when everyone knows the outcome has been predetermined.
"Poor you, who doesn't know what he's saying," Chavez answered 13 minutes later.
Chavez's use of modern social media such as Twitter and a personal website combines new techniques with classic Latin American political leadership that thrives on personal connections, said Susan Kaufman Purcell, director of the Center for Hemispheric Policy at the University of Miami.
"It's both old and new," Purcell said, noting that she recalls Mexican citizens lining up for hours at the presidential palace years ago to make a request of the nation's leader.
"It's the commandeering of very modern technology to continue what were old types of relationships," Purcell said.
FOLLOW THIS TOPIC