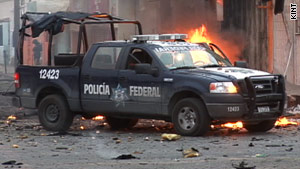 A police truck is parked in front of the remains of a car that exploded in a bombing Thursday in Juarez, Mexico.
STORY HIGHLIGHTS
NEW: FBI says it is not investigating
"Narcopinta" warns of car bombing in 15 days
No one has claimed to have written the message, which calls for inquiry of cartel leader
Last Thursday, a car bomb killed three people in Ciudad Juarez, authorities say
(CNN) -- A graffiti message on a wall in Juarez, Mexico, warns of a car bombing if U.S. authorities do not look into alleged ties between Mexican federal police and drug traffickers, a police spokesman said Monday.
"Yes, another 'narcopinta' was spray-painted on a primary school wall Sunday night," Jacinto Seguro, a spokesman for the Juarez Municipal Police, told CNN, using the Spanish-language name for the message. "It threatens another car bombing in 15 days if the DEA and FBI don't investigate the federal police ties to El Chapo."
No one has claimed responsibility, he said, "but usually, when there are messages about El Chapo, they come from La Linea."
"El Chapo" refers to Joaquin "Chapo" Guzman, leader of the Sinaloa drug cartel. La Linea is an extension of the Juarez cartel, made up in part of former Juarez police officers, according to authorities.
A spokeswoman for the FBI in El Paso said the bureau was not investigating the case and would not unless asked by the Mexican government.
Seguro said that in another incident of violence, gunmen Sunday night killed three patrons of a bar on a main street in Juarez. One of them was a university student at the Universidad Autonoma de Chihuahua, he said.
And last Thursday, a car bomb killed three people -- including two police officers -- in Ciudad Juarez, authorities said. It was the first time a car bomb has been used to attack federal police, said the city's mayor, Jose Reyes Ferriz. Six people, including a news cameraman, were wounded in the blast, authorities said.
According to Seguro, the Juarez cartel claimed responsibility for the incident in a graffiti message found in downtown Juarez.
"What happened on September Avenue will keep happening to all the authorities who keep supporting El Chapo," said the message, written in black spray paint. "Sincerely -- the Juarez cartel." The message concluded: "We still have car bombs."
Relative calm had prevailed in the city since elections were held there July 4. But Thursday's explosion and an attack the Sunday before against Mexican federal police are two among other major incidents in recent weeks.
On April 24, six federal police officers were killed in a daylight shooting in Juarez. Hours later, a painted message found in the city, allegedly from members of La Linea, claimed responsibility for the attack.
Assaults against federal police have increased since they took control of security in the city from the Mexican military on April 9.
The Juarez cartel and the Sinaloa cartel have been in a turf war since 2008. More than 5,000 people have been killed in drug-related violence in Juarez during the turf war, local authorities said.
CNN's Nick Valencia contributed to this story.
FOLLOW THIS TOPIC