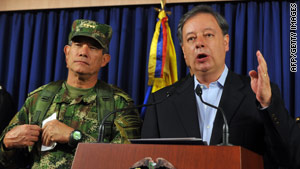 Gabriel Silva claims Colombia knows of apartments in Venezuela used by FARC rebels.
STORY HIGHLIGHTS
NEW: Venezuela recalls its ambassador to Colombia for consultations
Venezuela criticizes the assertion that Colombian rebels live in Venezuela
Venezuela rejects allegation, takes aim at outgoing Colombian president
Colombia says it knows of apartments in Venezuela used by rebels
(CNN) -- Venezuela recalled its ambassador to Colombia on Friday as it rejected Colombia's assertion that Colombian rebels are living in Venezuela.
The Venezuelan Foreign Ministry issued a statement saying the administration of outgoing Colombian President Alvaro Uribe is trying to undermine the possible normalization of relations between the two countries, which have had strained ties in recent years.
"After eight years of failed diplomacy and of militarism as the only regional policy, President Uribe leaves a country at war, a government isolated in Latin America and detached from its neighbors," the statement said.
Venezuelan Foreign Minister Nicolas Maduro said Venezuela was recalling its ambassador to Colombia for consultations.
Meanwhile, the Colombian government raised the prospect Friday of turning to international organizations. It said Colombia "has had a patient dialogue" for six years about its belief that Colombian "terrorists" were in Venezuela. It passed that information to Venezuelan authorities, the Colombian government said, but its overtures were "unsuccessful with relation to terrorist leaders."
On Thursday, Colombian authorities said they have proof that high-ranking leaders of the Revolutionary Armed Forces of Colombia, or FARC, live in Venezuela. The FARC is a Marxist rebel force that has been battling the Colombian state for decades.
Details of the evidence that Colombia may hold were not immediately clear.
Colombian Defense Minister Gabriel Silva met with the members of the Colombian news media for about an hour and a half Thursday to discuss the matter.
After the meeting, Silva gave a brief statement to reporters reiterating that Colombia has coordinates and knows of apartments used in Venezuela by rebels with the FARC and another rebel group, the National Liberation Army, which is known by its Spanish acronym, ELN.
Colombian authorities are aware of meetings between rebels in Venezuela as recently as Thursday, and have evidence of rebel camps, Silva said.
"The continued and permanent tolerance of the presence of terrorists in that country is a threat to the security of Colombia," he said.
On Friday, Venezuela criticized what it called the "pathetic media spectacle" in Colombia the day before.
The Venezuelan Foreign Ministry said in a statement that Venezuelan authorities have investigated each time Colombia has asserted that FARC rebels were in Venezuela. It also said the Colombian president had made "irresponsible" assertions that Venezuela was helping FARC rebels.
Uribe is a two-term president who has high approval ratings for his tough stand against FARC.
Colombia has accused Venezuelan President Hugo Chavez of supporting the rebels. Chavez has previously accused Colombian officials and right-wing paramilitary units of plotting his assassination.
Security analysts have said FARC guerrillas operate mostly in Colombia but have carried out extortion, kidnappings and other activities in Venezuela, Panama and Ecuador.
FARC is accused of trafficking in cocaine to finance its insurgency.
Colombia also has accused another neighbor, Ecuador, of giving refuge to rebels. In 2008, Colombia carried out a raid in Ecuadorian territory that resulted in the killing of a top FARC leader.
FOLLOW THIS TOPIC