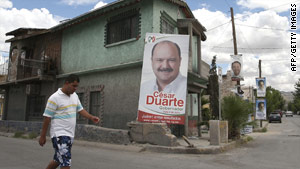 Polls opened in 15 states in Mexico where 12 new governors and dozens of lawmakers will be elected.
STORY HIGHLIGHTS
Polls opened in Mexican state and local elections
Twelve new governors will be elected
The opposition Institutional Revolutionary Party expected to do well
Security remains a top electoral issue
(CNN) -- Polls opened in Mexico on Sunday in an election that could provide a boost for the opposition party amid concerns over escalating violence.
Elections were underway in 15 states, where 12 new governors and dozens of mayors and local lawmakers will be elected.
Security remained a key issue around the country as drug cartel violence made its mark on the elections. Last week, unknown gunmen killed Rodolfo Torre Cantu, the gubernatorial candidate for the Institutional Revolutionary Party (PRI) in Tamaulipas state in an ambush that killed three others.
It was arguably the most high-profile killing of a candidate since the 1994 assassination of presidential candidate Luis Donaldo Colosio.
Torre's killing and other acts of violence during the campaign period will directly affect Sunday's vote, said George Grayson, professor of government at William and Mary university in the United States. Grayson was in Mexico City studying the elections.
"There was already going to be a low turnout, and now it will be even a lower turnout," Grayson said. "It will help the PRI in many of the 12 elections (for governor)."
The PRI is expected to hold on most of its current governorships, and possibly pick up an additional top seat in the state of Zacatecas, Grayson said.
"There's an atmosphere of deep concern that you can kill the gubernatorial candidate of a major party.
--George Grayson, analyst
The PRI led Mexico for 71 years of uninterrupted rule until 2000, when Vicente Fox of the National Action Party, or PAN, won the presidency. Current President Felipe Calderon, also of the PAN, has made the fight against drug cartels a key to his administration. A resurgent PRI could be interpreted as a sign of people's dissatisfaction with the persistent violence under Calderon's offensive.
Sunday's results could be indicative of the upcoming presidential election in 2012.
"It's a big win for the PRI," Grayson predicted.
However, the PRI was in danger of losing its stronghold in the state of Oaxaca.
Long a PRI bastion, the Oaxaca governor's race could be an upset for them. It is also a laboratory for a new kind of political alliance between all the opponents of the PRI, Grayson said.
Battling PRI candidate Eviel Perez Magana in Oaxaca is Gabino Cue Monteagudo. Cue Monteagudo represents the left, but is also being supported by the conservative PAN.
Fresh on voters minds, however, is the killing of Torre.
"There's an atmosphere of deep concern that you can kill the gubernatorial candidate of a major party and do it while he has eight or nine bodyguards and on his own turf," Grayson said.
Sergio Aguayo, a Mexican columnist and professor, said that there is a deeper level of dissatisfaction with these elections.
In short, democracy is not working in Mexico, Aguayo argued.
To have a true democracy, you need a minimum amount of security and income, and Mexico doesn't meet this bar, Aguayo said.
The campaigns leading to Sunday's vote saw business interests throwing their weight around, brazen attacks by drug cartels, and electoral commissions that were powerless to enforce regulations, Aguayo said. This, too, could be a preview for what the next presidential elections could look like, he said.
These elections, Aguayo said, "provide worry and concern about how politics has been corrupted."
FOLLOW THIS TOPIC