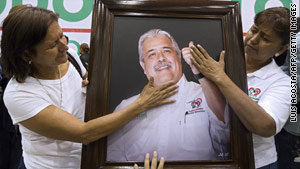 Supporters of slain candidate Rodolfo Torre Cantu touch his portrait during his funeral Tuesday in Ciudad Victoria, Mexico.
STORY HIGHLIGHTS
Sunday elections will determine more than 1,500 local, state and federal seats
Federal officials pledge to increase security for candidates
Gunmen killed front-runner governor candidate in border state last week
Hundreds of poll workers have quit, afraid they could also be targeted
(CNN) -- Mexicans in 15 states will head to the polls Sunday in elections that are widely considered to be a referendum on Mexican President Felipe Calderon's strategy of fighting drug cartels and organized crime.
The killing of the front-runner candidate for governor in the border state of Tamaulipas has increased fears of violence surrounding the elections, which will determine more than 1,500 local, state and federal seats, including governors in 12 states.
Attackers gunned down candidate Rodolfo Torre Cantu on Monday. No arrests have been made in the killing, which was presumably carried out by one of the drug cartels fighting for control of a trafficking corridor in the state.
"They are sending a message that organized crime can decide who is in or who is out or prevent people from voting in the person of their choice," political analyst Jorge Chabat said.
Torre's brother has been picked to replace him on the ballot. Federal officials have pledged to protect the elections across the country, and announced a new plan this week to increase security for candidates with more collaboration between law enforcement and political parties. But hundreds of poll workers have quit, afraid they could also be targeted.
And some officials worry that fear of violence could also keep voters away from polls.
"What guarantees or motivation do voters have to come out and vote when recent events have shown that organized crime is paying attention to the electoral process and have an interest in who will be the next mayor or governor?" said Silvio Aureles, a senator for the leftist Democratic Revolution Party.
Eduardo Huchim, a former elections official, said the assassination of the candidate in Tamaulipas proves that drug cartels have taken control over that state.
"It is not gossip or personal opinion that the vast majority of the municipalities in the state are under the control of drug traffickers," he said. "They control officials and police departments, who follow direct orders from the cartels."
After the Tamaulipas attack, Calderon said that organized crime cannot be allowed to interfere with elections, noting that the killing was an attack on the democratic institutions of Mexico.
"This is an aggression not just against a citizen, but against all of society," he said.
The violence extends beyond Tamaulipas.
A prominent politician and former presidential candidate has been missing since May, when authorities believe he was kidnapped near his ranch in the central Mexican state of Queretaro.
A mayoral candidate in the Pacific-coast state of Guerrero was killed last month, and gunmen fired at a bus carrying members of the National Action Party in Sinaloa. Last week two people were killed in the southern state of Chiapas when gunmen open fire during a clash between rival political groups.
Many believe the influence of cartels in Mexican politics goes beyond violence.
"They are injecting money in political campaigns hoping that tomorrow they'll get immunity where their candidate is elected," said Cesar Prieto, an expert in security in Mexico.
In May the Cancun Mayor Gregorio Sanchez, who had been mentioned as a potential candidate for governor in the state of Quintana Roo, was arrested, accused of drug trafficking and money laundering.
Drug-related violence had escalated in Mexico when voters elected Calderon president in 2006. He made it his top priority, calling on the military to take the lead in the fight, bypassing local and federal police believed to be corrupt and under the control of the organized crime.
But the number of people killed in drug-related violence remains high.
The Mexican federal government said in April that more than 22,700 people had died in drug-related violence in the country since Calderon took office.
CNN's Mario Gonzalez, Rey Rodriguez and Krupskaia Alis contributed to this report from Mexico City.