State media: Cuban hunger striker 'in danger of dying'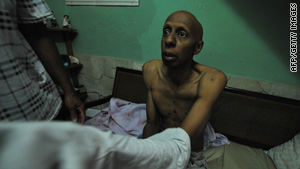 Guillermo Farinas, a psychologist and writer, at his home in Santa Clara, Cuba, in March.
STORY HIGHLIGHTS
Doctors "on edge" because of Guillermo Farinas' condition, state-run website reports
Farinas has abstained from solid food for more than 120 days
He wants the Cuban government to release 26 political prisoners
Havana, Cuba (CNN) -- Cuban opposition activist and longtime hunger striker Guillermo Farinas is "in danger of dying," state media reported Saturday.
In a rare move, state-run Cuban website Cubadebate published an interview with Armando Caballero, head of intensive care at Arnaldo Milian Castro University Hospital, where Farinas is being treated.
Caballero said Farinas is "conscious [and] oriented," but his frail condition has doctors "on edge," according to the website.
Caballero also said Farinas has gained weight because of vitamins and nutrients being fed to him intravenously, despite having abstained from solid food for more than 120 days. The article touted the high level of care the 48-year-old psychologist and writer has reportedly been receiving at the hospital near his home in Santa Clara.
Farinas stopped eating solid food shortly after jailed Cuban dissident Orlando Zapata Tamayo died February 23 following a prolonged hunger strike. Zapata was among a group of 75 dissidents jailed during a government crackdown on political opposition in 2003.
His death sparked condemnation from Europe and Washington and drew a rare statement of regret from Cuban President Raul Castro.
Farinas then vowed to starve himself to death unless the Cuban government released 26 ailing political prisoners.
Cuba says it has no political prisoners and has rarely acknowledged dissidents in state media. But a recent series of transfers of prisoners to jails closer to their homes and the release of two ailing prisoners has raised questions over whether Cuba is easing conditions for jailed activists.
FOLLOW THIS TOPIC