Alex's effects kill 6 in Mexico, government says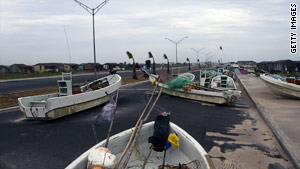 Boats are strewn across a street in Matamoros, Mexico, after Hurricane Alex passed through.
STORY HIGHLIGHTS
NEW: Nuevo Leon received more rain than it does in a year, official says
NEW: Deaths resulted from mudslides, fall, electrocution, drowning, falling structure
NEW: Alex no longer is a tropical depression
Rain breaks record set in 1988, water agency says
(CNN) -- At least six people have died in the Mexican state of Nuevo Leon from rain associated with former Hurricane Alex, which stormed ashore late Wednesday, the government news agency said Friday.
The state has been drenched with nearly 500 millimeters (more than 19 inches) of rain in that time period, more than it usually receives in a year, said Nuevo Leon civil protection official Jorge Camacho Rincon.
Two people died in mudslides, one drowned, one was electrocuted, one fell off a structure, and a structure fell on top of another person, the Notimex news agency said, quoting Camacho.
Some places in Nuevo Leon received about 820 millimeters (more than 32 inches) of rain in less than 48 hours, Camacho said.
Alex was expected to keep drenching states across Mexico even as it continued to dissipate Friday, forecasters said.
Alex was downgraded from a tropical storm to a tropical depression as it lost steam passing over mountains in central Mexico on Thursday, the National Hurricane Center said. Late in the day, sustained winds were only 30 mph (45 kph).
It was later downgraded from a tropical depression to a rainstorm.
But states in northern Mexico could continue to see record-setting torrential downpours and flooding, Mexico's National Meteorological Center said late Thursday. Even as it weakened, the storm caused significant damage in parts of Mexico.
Nuevo Leon Gov. Rodrigo Medina de la Cruz asked federal authorities to declare the state a disaster area Thursday after more than 700 millimeters (27 inches) of rain fell in 12 hours, the agency said.
"This is an extraordinary phenomenon that has never been seen before, that is going to leave serious consequences in highway and road infrastructure," he said, according to Notimex.
Alex dumped more rain on Mexico than the previous record-holder, Hurricane Gilbert, did in 1988, the National Water Commission said.
The Mexican navy said it rescued seven people Wednesday from a fishing boat stranded by the storm about 112 nautical miles off the Yucatan peninsula.
Even though Alex was centered more than 600 miles from the massive BP oil disaster, officials said the storm could affect cleanup efforts for days because it stirred up heavy seas across the Gulf of Mexico.
FOLLOW THIS TOPIC