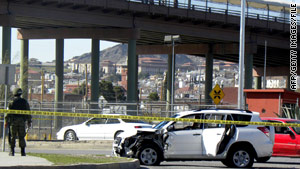 A Mexican soldier patrols the scene of shooting deaths related to the U.S. Consulate in Ciudad Juarez in March.
STORY HIGHLIGHTS
NEW: Six other suspects also were arrested Thursday
Chavez was the leader of hit men for the Los Aztecas drug gang, police say
Police: Los Aztecas work for La Linea gang, which ordered the death of a U.S. consulate employee
Los Aztecas also killed 13 people at Juarez party in February, authorities said
Mexico City, Mexico (CNN) -- Mexican authorities have arrested a drug gang suspect in connection with dramatic shootings in Ciudad Juarez that killed 16 people, including three connected with the U.S. consulate, federal police said Friday.
Jesus Ernesto Chavez Castillo, known as the Camel, is accused of planning the shooting deaths in March of the three victims connected to the consulate and participating in the killings of 13 people at a party in Juarez a month earlier, said federal police official Ramon Eduardo Pequeno Garcia.
Chavez was the leader of the hit men for Los Aztecas drug gang, which works for La Linea, the armed branch of the Juarez Cartel, Pequeno said.
It was La Linea that ordered the killing of U.S. consulate employee Lesley Enriquez, the police official said. Enriquez and her husband, Arthur Redelfs, were gunned down March 13 as they left a birthday party in their white SUV.
The assassins became confused because they had been told Enriquez would be traveling in a white truck, and two vehicles that could match the description pulled away from the party, Pequeno said. So the hit men shot up both, the official said.
Killed in the second vehicle was Jorge Alberto Salcido Ceniceros, the husband of another consulate employee.
Two other suspects in the shootings were arrested earlier. Ricardo Valles de la Rosa, 42, was apprehended in March. Luis Humberto Hernandez Celis, known as Pack, was arrested May 15, police said.
A month before the consulate shootings, Chavez took part in the mass killing of 13 people at a party in Ciudad Juarez, Pequeno said. The hit men mistakenly thought the party-goers, most of them teens, belonged to the rival Artistas Asesinos drug gang, the official said.
In retribution, Pequeno said, the Artistas Asesinos and their allies, the Mexicles drug gang, raided a Juarez drug rehab center in early June and killed 19 people. Seventeen of those victims were La Linea members, Pequeno said.
Two suspects in the killings at the Juarez party were arrested in February. The gang member police say was the leader of the attack was killed in a shootout with authorities, officials said at the time.
Chavez, 41, was arrested Thursday in Ciudad Juarez, Pequeno said.
Authorities say Chavez received his orders directly from La Linea second-in-command Jose Antonio Acosta Hernandez, known as El Dienton.
Chavez previously had been imprisoned for five years in Louisiana on drug charges, Pequeno said.
Police said six others also were arrested Thursday. They are:
-- Francisco Puga de la Torre, 30, known as Paco. Police say he also participated in the Juarez slayings of the people connected with the U.S. consulate. In addition, police said, he is responsible for various abductions and slayings, and for supervised drug sales.
-- Antonio Chavez Ortega, known as El Sogo. He is responsible for at least three slayings of Artistas Asesinos and Mexicles gang members, police said Friday.
-- Santiago Duran Salas, known as El Chago. He is accused of belonging to a group of hit men who participated in several homicides, extortions and abductions.
-- Adrian Villanueva, known as Joel. He received orders directly from Chavez on security for the gang's houses, police said.
-- Dario Saenz, known as El Ceros. Police say he worked as an informant and lookout.
-- Ricardo de la Torre Barrios, known as El Guero. Authorities say he carried out homicides ordered by Chavez.
FOLLOW THIS TOPIC