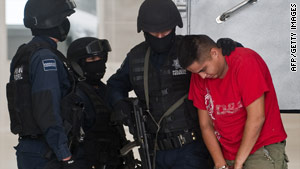 Wednesday's arrest comes a week after the capture of alleged "La Familia" drug trafficker Jose Luis Anaya, right.
STORY HIGHLIGHTS
Miguel Ortiz Miranda is a former state police patrol leader
He is accused of being involved in more than 30 well-publicized killings
He is said to be a leader for La Familia Michoacana in central Mexico
Ortiz is known as "Tyson"
Mexico City, Mexico (CNN) -- Mexican federal police have arrested a drug cartel chieftain who is a former police officer and is connected to more than 30 brutal killings, authorities said Wednesday.
Miguel Ortiz Miranda, known as "Tyson," was a leader for La Familia Michoacana in the city of Morelia, federal police said. Authorities consider him responsible for organizing the hit men who killed local officials as well as carrying out abductions and extortions, federal police anti-drug chief Ramon Eduardo Pequeno Garcia said in a televised news conference.
Ortiz, 28, was arrested Tuesday in Morelia, in Mexico's state of Michoacan.
Authorities say Ortiz became involved with La Familia Michoacana in 2005 while working as a state police patrol chief. The driver of a vehicle Ortiz had stopped offered him a large amount of money to let the motorist go, Pequeno said.
"As a result of that contact, he started his illegal activities in Morelia, becoming an informant at the service of that criminal organization, reporting the movements of suspicious vehicles in the city and alerting about the presence of different police authorities, in addition to providing security to members of the criminal groups," Pequeno said.
Police say Ortiz was involved in some of the most publicized crimes of the past year, including the June 2009 attack on a federal police convoy that killed 12 officers, and the slayings last month of 15 criminals who were acting against the wishes of La Familia Michoacana.
In addition, police said, Ortiz was involved in:
-- The deaths of four police officers in a June 2009 roadside ambush. Cartel members made an anonymous phone call to federal police so they would go the scene of the purported crime and could be ambushed on the way, Ortiz told police.
-- A July 2009 attempt to free Familia Michoacana leader Arnoldo Rueda Medina by attacking several federal police stations with large-caliber weapons and fragmentation grenades.
-- The July 2009 execution in a Morelia home of a group of men belonging to the rival Zetas drug cartel.
-- The September 2009 death of Jose Manuel Revuelta, the state's assistant secretary for public security.
-- The decapitation of state official Josafat Delfino Lopez Tinoco in October 2009. Lopez's head was left in a cooler with a message from "The Resistance" written on a piece of cardboard. The Resistance referred to an alliance between La Familia Michoacana and several other cartels against the Zetas.
-- The December 2009 attack with heavy weapons and grenades on the Hotel Casablanca in Morelia, where federal police officers were staying.
-- An attempt in April on the life of Minerva Bautista Gomez, secretary for public security in Michoacan. The attack, he said, was in retaliation for changes made in the police department that hindered the cartel's interests. The hit men walked away from the shooting believing they had killed Bautista. They hadn't.
Ortiz told police he participated in training by the cartel, including firearms instruction and survival lessons in the Michoacan mountains that lasted a month and were taught by former military personnel.
FOLLOW THIS TOPIC