Brother of slain Mexican gubernatorial candidate will take his place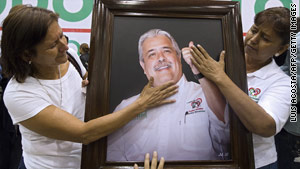 Supporters of Rodolfo Torre Cantu touch his portrait during his funeral Tuesday in Ciudad Victoria, Mexico.
STORY HIGHLIGHTS
Egidio Torre will run for governor in place of his slain brother
Rodolfo Torres was gunned down this week
The loss of his brother persuaded Egidio Torre to run
Elections are this Sunday in Mexico
(CNN) -- Egidio Torre Cantu, brother of slain Mexican gubernatorial candidate Rodolfo Torre Cantu, was chosen by the Institutional Revolutionary Party, or PRI, to take his place on the ballot, a PRI official told CNN.
The naming of the new candidate comes just days before Sunday's elections.
Rodolfo Torre, candidate for governor in the border state of Tamaulipas, was gunned down Monday morning near Ciudad Victoria, Mexico.
No arrests have been made in the killing, which was presumably carried out by one of the drug cartels fighting for control of the Tamaulipas corridor. It was the highest profile killing of a Mexican political candidate since the 1994 assassination of presidential candidate Luis Donaldo Colosio.
"This has not been an easy decision," Egidio Torre said after his party officially registered him with the state electoral commission. "The most powerful reason that has brought me here is the loss of my brother, that vital loss, the inconsolable absence of my brother Rodolfo."
Egidio Torre has some political experience, having been mayor of Ciudad Victoria from 2000-2001. His election by party leaders as the replacement candidate was surprising to some, as he was not on any of the shortlists that were circulating on the eve of the decision.
Although he is the new candidate, the ballots will not be modified and will carry his slain brother's name.
Rodolfo Torre was a front-runner in the race for the governorship. Wednesday was also the last day of campaigning before the vote.
Three others were killed in the shooting that ended Rodolfo Torre's life, including a state lawmaker, Enrique Blackmore.
Mexican President Felipe Calderon responded by asking all political parties to unite behind the common enemy of organized crime. Calderon has led a campaign against drug cartels operating in his country, as violence has escalated to unprecedented levels.
FOLLOW THIS TOPIC