Gunfire kills gubernatorial candidate, 3 others in Mexico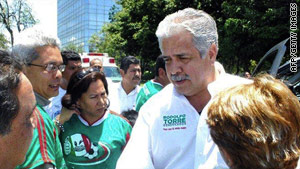 Rodolfo Torre Cantu, a gubernatorial candidate in the Mexican state of Tamaulipas, campaigns earlier this month.
STORY HIGHLIGHTS
Ambush also killed three other people
Four others wounded, government news agency says
Official: "Mexico should condemn this cowardly act"
Another politician killed June 19
Mexico City, Mexico (CNN) -- A gubernatorial candidate in the state of Tamaulipas, Mexico, was killed by gunfire Monday morning near Ciudad Victoria, a top government official reported.
The candidate, identified as Rodolfo Torre Cantu, belonged to the Institutional Revolutionary Party, known by its Spanish acronym PRI.
"This is an absolutely reproachable act that fills all of Mexican society with indignation," Interior Secretary Fernando Gomez Mont said Monday afternoon in a brief televised statement. "All of Mexico should condemn this cowardly act."
Three other people, including Torre's campaign manager, also were killed in the ambush, Gomez Mont said.
A Tamaulipas state lawmaker, Enrique Blackmore, was among those killed.
Another four were wounded and transported to the Doctor Norberto Trevino General Hospital in Tamaulipas, where they were under heavy guard, the government-run Notimex news agency said.
Mexican President Felipe Calderon said that the federal government would give its unconditional support to the investigation of Monday's killing.
"This is an aggression not just against a citizen, but against all of society," Calderon said.
Torre's killing was an attack on the democratic institutions of Mexico, he said.
Calderon said that the fight against drug cartels must continue, and that organized crime cannot be allowed to interfere with elections.
Mexico holds elections Sunday for 12 governorships and state and municipal offices. Torre was considered a front-runner in his race.
Election officials in Tamaulipas were to meet Monday to discuss whether Sunday's elections would be postponed because of the killing.
In a statement, Torre's political party expressed its condolences for those killed.
The assassination will "inevitably contribute to the disturbance of this (election) process that we see as the adequate path to reach robust democracy, as opposed to those who have preferred violence," PRI leader Beatriz Paredes said.
"Nothing will intimidate us," the statement added.
Torre was the second Mexican politician killed this month.
Gunmen shot and killed Guadalupe Mayor Jesus Manuel Lara Rodriguez on June 19 as his wife and child watched.
No one has claimed responsibility for either assassination.
FOLLOW THIS TOPIC