Hospital: 16th person dies from burns in El Salvador bus attack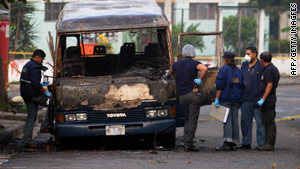 An arson attack on a mass transit bus occurred Sunday night in a congested San Salvador neighborhood.
STORY HIGHLIGHTS
Two others shot to death in separate bus attack the same night
Five suspects to be charged with homicide Friday, federal prosecutors say
Gangs believed responsible
El Salvador crime threat is "critical," U.S. State Department says
San Salvador, El Salvador (CNN) -- A 16th person has died from burns suffered in a Sunday night arson attack on a mass transit bus in El Salvador, authorities said Friday. Two other people were shot to death in a separate attack on another bus around the same time.
Five of 12 suspects arrested in connection with the attacks will be charged Friday with aggravated homicide and attempted aggravated homicide, said Erick Alvarez, a spokesman for the attorney general's office.
The victim who died Friday, identified as 46-year-old Maria de Jesus Orellana, suffered burns over 90 percent of her body and severe damage to her lungs and airways from smoke and hot gas inhalation, said officials at the Hospital Nacional Rosales.
Two remaining patients were listed in critical condition but were stable and conscious, the hospital said.
The arson attack occurred in a congested neighborhood in San Salvador, the nation's capital.
Witnesses said people on motorcycles intercepted the bus, doused it with gasoline and closed the doors with the passengers inside.
Authorities tried to break windows to help people escape from the burning bus, El Salvador's National Civil Police said. Emergency crews transported 13 passengers to a hospital.
Ten minutes later, a group of attackers fired on another bus blocks away, police said, killing an 11-year-old girl and the bus conductor.
Police said they suspected the incidents were linked, and that gang members were involved in the attacks. Authorities said they had not ruled out the possibility the buses were targeted as a reprisal against drivers who had not paid gang-imposed protection money.
The U.S. State Department says "the criminal threat in El Salvador is critical. Random and organized violent crime is endemic throughout El Salvador."
El Salvador has one of the highest homicide rates in the world, the State Department says.
Journalist Merlin Rodriguez contributed to this report for CNN.
FOLLOW THIS TOPIC