Death tolls climb from Mexican police ambush, prison uprising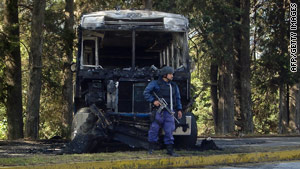 Ten Mexican police and an undisclosed number of criminals were killed in the convoy attack Monday, said officials.
STORY HIGHLIGHTS
NEW: At least 12 police dead in ambush on convoy, authorities say
NEW: Dead attackers could total 13, newspaper says
29 dead in unrelated jail uprising, government says
More than 22,000 dead in drug violence since December 2006
(CNN) -- The toll climbed to more than 50 people killed in Monday's ambush on a Mexican federal police convoy and an unrelated prison uprising, authorities said Tuesday.
The ambush on the police convoy in the central coastal city of Zitacuaro killed at least 12 federal officers and an undetermined number of criminals, the government said.
Initial reports said 10 federal police were killed and several others were wounded. Two of those wounded officers died, bringing the death toll to at least 12, the Mexican attorney general's office said Tuesday.
El Excelsior newspaper reported 14 dead officers and 13 attackers killed. CNN could not immediately independently verify those numbers.
Reports Monday indicated a total of 26 dead, the government-run Notimex news agency said.
In a separate incident in coastal northwestern Mexico, a prison uprising in the city of Culiacan left 29 dead, Notimex said. Initial reports had said 18 were killed, which was later revised to 20.
The toll rose to 29 late Monday when Mexican authorities found nine bodies in a separate wing from the one in which the main uprising took place, Notimex said.
The carnage occurred in the state of Sinaloa, home to the powerful Sinaloa cartel. Authrorities believe two rival drug gangs were responsible for the uprising. An AK-47 assault rifle and two large-caliber handguns were confiscated, Notimex said.
The attack on the federal police officers occurred in the central coastal Mexican state of Michoacan, the national Ministry of Information said. The convoy had originated in the city of Hidalgo and was on its way to Mexico City.
Authorities said Tuesday they believe La Familia Michoacana drug cartel was behind the ambush, CNNMexico.com reported, quoting the nation's head of the anti-drug division, Ramon Eduardo Pequeno Garcia.
The police officers wounded in the ambush were taken to hospitals in Mexico City and Morelia, another city in Michoacan state, the Information Ministry said. They were being protected under heavy guard.
The four-truck police convoy was attacked after the criminals blocked the road with a bus that had been set on fire, Notimex said.
Violence in Mexico has skyrocketed since President Felipe Calderon declared war on the nation's drug cartels shortly after taking office in December 2006. More than 22,000 people have died in drug violence during that time period, the government said recently.