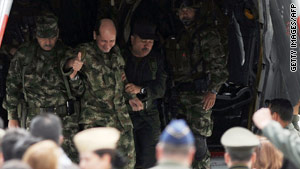 Gen. Luis Herlindo Mendieta gives a thumbs up Monday. He is free after 12 years as a hostage of Colombian guerrillas.
STORY HIGHLIGHTS
NEW: Wife said she felt fire in heart, butterflies in stomach
"They are savages," former captive says of rebels
Men had been held since 1998
Three hostages still wore heavy chains from captivity
(CNN) -- Four hostages rescued from Marxist guerrillas in Colombia over the weekend were reunited with their families Monday in Bogota, the nation's capital, a broadcast on CNN affiliate Caracol TV showed.
The four men were taken from the jungle Monday aboard military helicopters to an airport at San Jose de Guaviare and loaded onto a transport airplane that took them on a 45-minute flight to Bogota, the broadcast showed.
Flanked by tearful family members, the captives spoke to the nation and gave thanks to God, their rescuers, the media and family members. One former captive harshly criticized the rebels of the Revolutionary Armed Forces of Colombia, who had held him and the other three hostages since 1998.
"They are savages," Sgt. Maj. Harvey Delgado Argote said. "They have made my daughters suffer. I didn't know my daughters."
Three of the former hostages still wore around their necks the heavy chains that had been used to hold them captive.
Maria Teresa de Mendieta, wife of former captive Gen. Luis Herlindo Mendieta, said she did not sleep Sunday night and was impatient to be reunited with her husband Monday.
"In the heart, one feels fire," she told a throng of reporters at the airport. "In the stomach, one feels butterflies.
"I could not wait for the (airplane) doors to open so I could see him."
The captives were met in Bogota by Minister of Defense Gabriel Silva, who welcomed them back.
Colombian officials had said Sunday that they had rescued Mendieta, Delgado and Col. Enrique Murillo.
On Monday, authorities said they also rescued Lt. Col. William Donato Gomez, whom the Colombian military found near where the other three police officials were found.
Colombian President Alvaro Uribe had announced two of the rescues Sunday when he interrupted a televised news conference in the town of Quibdo to answer a call from the army commander, Gen. Oscar Gonzalez.
"May I allow myself to communicate to the Colombian people, from Quibdo, some great news: Our joint military forces just rescued General Mendieta and Colonel Murillo," the president said.
"They are in combat right now in the jungles of Guaviare in order to rescue them unharmed," he said.
"Both are in the hands of our armed forces," he said.
Word of Delgado's rescue came later.
A police spokesman said the military operation took place in eastern Colombia, in Guaviare province.
Mendieta and Murillo were taken prisoner by the guerrillas, commonly known as the FARC, in jungle town of Mitu.
Mendieta was a national police colonel when captured by the FARC and was promoted during his time in captivity.
He was the highest-ranking officer held by the rebels.
According to Colombia's El Espectador newspaper, Mendieta celebrated his 53rd birthday Sunday.
The FARC guerrillas have been waging war on the Colombian government since the 1960s and have routinely taken hostages. Several captives have been released through the years, including two in March. The rebels released six hostages last year.
The Colombian military performed a daring rescue in July 2008, when soldiers freed 15 captives, including former presidential candidate Ingrid Betancourt and three U.S. defense contractors.
The latest rescue came less than a week after Colombian TV stations aired proof-of-life videos of five hostages held by the FARC. None of the men in those videos was among the captives rescued Sunday.
The rescue also came one week before Colombia holds a runoff election for president. One of the candidates, Juan Manuel Santos, is a former defense minister. He held that post when the military performed the 2008 rescue.
Santos is running against former Bogota Mayor Antanas Mockus, who came in second in last month's initial vote.
In the video released last week, the captives asked Colombians to make a careful choice for president and to pick a candidate who will work toward their freedom.