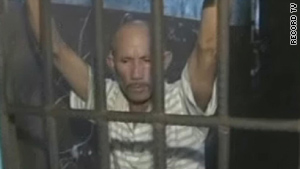 Jose Agostinho Bispo Pereira is accused of fathering seven children with one daughter and one child with another.
STORY HIGHLIGHTS
Man accused of fathering children with two daughters, police said
Children were malnourished and confused, police said
Police had to trek through wilderness to reach the suspect
Initiative against pedophilia was started in March
Pinheiros, Brazil -- Law enforcement agents in Brazil's northeastern town of Pinheiros trekked and canoed for nearly two hours through rugged terrain to arrest a 54-year-old man accused of fathering eight children with his two eldest daughters, a top regional investigator said.
Pinheiros Regional Police Chief Laura Amelia Barbosa told CNN that Jose Agostinho Bispo Pereira -- who was arrested Thursday after complaints that he sexually abused his 29-year-old daughter, whom he held captive -- fathered yet another child with his eldest daughter.
"He fathered seven children with his 29-year-old daughter and one with his 31-year-old," Barbosa said.
The seven children born from his 29-year-old daughter range in age from 2 months old to 12 years, she said.
"We just learned that he fathered a child with his 31-year-old daughter. ... The 14-year-old is right here beside me," Barbosa said in a phone interview with CNN.
"We also confirmed that two other of his children/grandchildren were sexually abused," she said.
Pereira was arrested "in flagrante," Barbosa said, in the remote village of Experimento. There, police interrogated Pereira and his 29-year-old daughter, with whom he has had sex since she was 12, police said.
"She is still very fond of him," Barbosa said of the 29-year-old. The 31-year-old managed to escape, she said.
During an interview with CNN affiliate Record TV on Thursday, Pereira said he knew he was committing a crime by molesting his daughters.
"It is a crime. I know that it is a crime," Pereira said. "But she was committing the crime as well, wasn't she? Then, I had to do it."
"A farmer only does things because the other consents, because if the other doesn't consent, the person doesn't do (it)," he added.
The operation began after a neighbor tipped off the police. When officials arrived in Experimento, after crossing rough waters by canoe, they found the accused with his children, who appeared to be malnourished and barely clothed, she said.
"They lived in absolute penury," she said. "The children had never seen a car, they seemed confused."
Barbosa said the children were also questioned by police and are now under the care of child services, assisted by psychologists and social workers, she said.
Experimento -- a sparsely populated village on a peninsula divided by an estuary -- provided a good hideout for the accused, she said.
Barbosa is not clear whether Pereira has an attorney and said her office is awaiting a judicial appointee to represent him.
She said more complaints about pedophilia have been coming to police since the Women's Protection Task force began a campaign against it with a large rally in March.
In this case, "so many people didn't want to defy him. He was known as a bully," she said.
"It is shocking, but we feel like it was a mission accomplished," said Barbosa.
FOLLOW THIS TOPIC