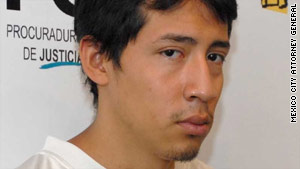 Javier Covarrubias Gonzalez said he suffocated his two children just hours before he reported them missing.
STORY HIGHLIGHTS
NEW: Bodies were discovered this week, officials say
Children reported missing May 18
Father says he killed them the same day, prosecutors say
Said he could no longer afford to take care of them
Mexico City, Mexico (CNN) -- A Mexican father who said his two young children had been kidnapped -- and later told authorities he had sold them to pay a debt -- confessed after their bodies were found that he had killed them, prosecutors say.
Javier Covarrubias Gonzalez, 20, said he suffocated daughter Isis Liliana and son Darien Isai just hours before he reported them missing on May 18, the Mexico City district attorney's office said in a statement issued Tuesday.
He cited financial difficulties for the slayings, saying he could no longer afford to take care of the children, the state-run Notimex news service said Wednesday.
Covarrubias said he buried his son in a bag in Tepeyac National Park and his daughter in a backpack nearby, the prosecutors' statement said.
Someone walking a dog in the park Monday discovered a bag with a young person's remains inside, the statement said. A girl's body was found in a backpack in a hole near the park, prosecutors said.
The children's mother, Irma Merino Osorio, identified clothing on the bodies, saying they were the same the children were wearing the day they disappeared, the statement said.
She also told officials that her husband returned home May 18 filthy with dirt, Notimex said.
Authorities said they are awaiting DNA tests and examinations by experts to officially determine the identities of the two young children.
After Covarrubias reported them missing May 18, neighbors and police combed the streets to find them.
Accounts of the kidnapping appeared on local television stations, and Covarrubias asked local leaders to help him pressure authorities to investigate.
Reports of the kidnapping prompted protests in Mexico City's working-class Tepito neighborhood, as residents criticized police for allowing crimes in their community.
But Covarrubias later changed his story, telling officials he gave his children to a woman to pay off a debt of 25,000 pesos (about $1,900).
Prosecutors said Sunday that Covarrubias confessed to the lie so his wife would not find out what really he had done.
Covarrubias told investigators that he had turned over his children -- along with a grocery bag stuffed with diapers, bottles and a sweater -- to a woman he knew only as "La Lupe."
Covarrubias fled 10 days after reporting the children missing -- once his story had begun to unravel, prosecutors said.
Forensic investigations revealed that injuries he told authorities he suffered during the violent kidnapping were self-inflicted. And surveillance videos showed he was not on the street where he had described the attack taking place, prosecutors said.
Police arrested him in the neighboring state of Hidalgo.
Speaking to reporters Sunday, Covarrubias said he was sorry for what he had done and hoped authorities would find his children soon.
FOLLOW THIS TOPIC