Canadian police seek man who bought enough fertilizer to make bomb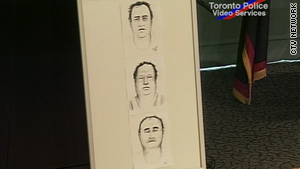 The fertilizer buyer is described as a short, stocky Caucasian male in his late 50s or early 60s, police said.
STORY HIGHLIGHTS
NEW: Man misrepresented himself as buying on behalf of a local grower, police say
Store employees later discovered he was not who they thought he was
Law requires stores to identify those who buy fertilizer that can be made into bombs
RCMP says such purchases are not unusual among farmers
(CNN) -- Police in southern Ontario are hunting for a man who purchased a large amount of ammonium nitrate fertilizer -- enough, officials say, to make a bomb.
Royal Canadian Mounted Police investigators are working with Niagara regional police to identify the individual who purchased it on May 26 in Lincoln, Ontario. Lincoln is just over an hour from Toronto, Ontario, where President Obama and other world leaders are expected in less than two weeks for the G-20 summit.
"We are taking the matter seriously; however, there is nothing to indicate it was purchased with malicious intent," Sgt. Marc LaPorte of the RCMP said.
After the man paid for and left with 60 25-kilogram bags of ammonium nitrate, it was determined he was not who the store employees thought he was, he said. They then alerted police.
The employees failed to get the customers name, despite regulations that require anyone purchasing ammonium nitrate to be identified.
At a news conference Wednesday afternoon, police officials in Toronto said the buyer misrepresented himself as buying fertilizer on behalf of a local grower. It is possible, they said, that the man was planning to use the fertilizer for a marijuana operation.
Police released sketches based on three eyewitnesses, and described the man as a short, stocky Caucasian male in his late 50s or early 60s, with severed fingers on his right hand. They said he walked with a limp and had a strong accent.
RCMP officials point out that it is not suspicious for farmers to purchase ammonium nitrate fertilizer, even in this amount. For now they are just trying to locate the individual and the ammonium nitrate to be sure the purchase was made without malicious intent.
FOLLOW THIS TOPIC