Mexico suspends probe into missing politician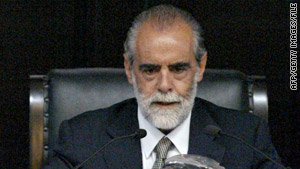 Diego Fernandez de Cevallos Ramos was last seen at his ranch home in central Mexico.
STORY HIGHLIGHTS
Mexican authorities suspend investigation into ex-presidential candidate who went missing
Ex-Mexican presidential candidate's family ask authorities to "remain in the margins"
Family has issued public plea to abductors asking for negotiations to secure release
More than 22,700 people killed since Mexico declared war on drug cartels in December 2006
Mexico City, Mexico (CNN) -- Mexican authorities have suspended their investigation into the disappearance of a former presidential candidate after his family asked authorities to stand back from the case, the attorney general's office announced Saturday.
Diego Fernandez de Cevallos, 69, a former senator and close ally of Mexican President Felipe Calderon, disappeared a week ago near his ranch in the state of Queretaro in central Mexico. Blood and other signs of a struggle were found inside, police said.
Federal prosecutors had been investigating the case but said in a statement Saturday that they had called it off at the request of the ex-senator's family members.
In a letter Friday, the ex-senator's son, Diego Fernandez de Cevallos Gutierrez, thanked authorities for their "diligence and commitment" in the investigation, but asked that they "remain in the margins" of the negotiation process to guarantee the life and safety of his father.
At a speech before a National Action Party convention Saturday, Calderon sent a message of support to the former senator and his family. He also recalled the first time they met.
"I saw him smoking a cigar, reading the newspaper and driving his truck all at the same time," Calderon said, according to information posted on the party's Web site.
Fernandez de Cevallos was a presidential candidate in 1994 and has served as a Mexican senator and congressman. He belongs to the same political party as Calderon, leading some officials to speculate that he may have been abducted by narcotraffickers.
More than 22,700 people have been killed since Calderon declared war on the drug cartels shortly after taking office in December 2006.
Fernandez de Cevallos' conservative politics also have led others to speculate that leftist guerrillas may have abducted him.
But the guerrilla Popular Revolutionary Army issued a statement Monday saying it did not have anything to do with the disappearance.
A photo showing a blindfolded man resembling Fernandez de Cevallos was e-mailed this week to the media but has not been authenticated.
On Monday, the senator's family issued a plea asking the abductors to negotiate with them for his release.