STORY HIGHLIGHTS
Carrotmob brings together consumers who want to support sustainability
Global movement organizes reverse boycott events that reward businesses for being green
El Galpon farmers market in Buenos Aires is one beneficiary of worldwide movement
In Latin America, poverty, crime and unemployment often overshadow environmental problems
Buenos Aires, Argentina (CNN) -- The El Galpon farmers market is one of the few places in Buenos Aires where a variety of natural products are all available under one roof.
From fresh organic vegetables, cheese and wine to vegan granola and hemp clothing, it offers a direct link to the many fertile farms that border this bustling metropolis.
Situated in a bright yellow warehouse surrounded by twisted train tracks and rusted box cars, the market strives to offer good products for good prices -- which is exactly why it was targeted recently by a Carrotmob.
Carrotmob is a global movement that is built on the 'carrot-or-the-stick' concept. It rewards -- rather than punishes -- small businesses for employing sustainable practices. Essentially, a Carrotmob is the opposite of a boycott.
"The idea is to support a business because it is doing something good. And you support it by bringing the mob, a lot of people, who are going to consume at this business, and thereby make the profits bigger," says Janne Andresen, one of the organizers of the Buenos Aires Carrotmob, which was the first branch established in South America.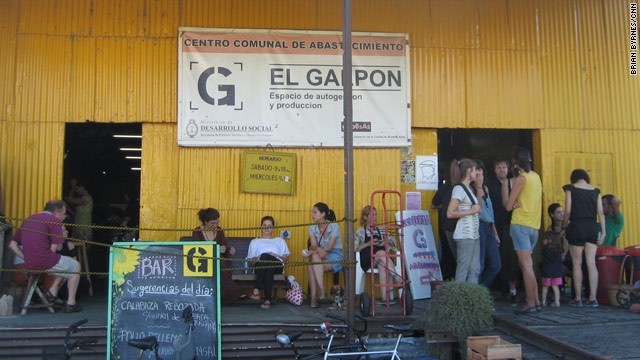 Gallery: El Galpon farmers market, Buenos Aires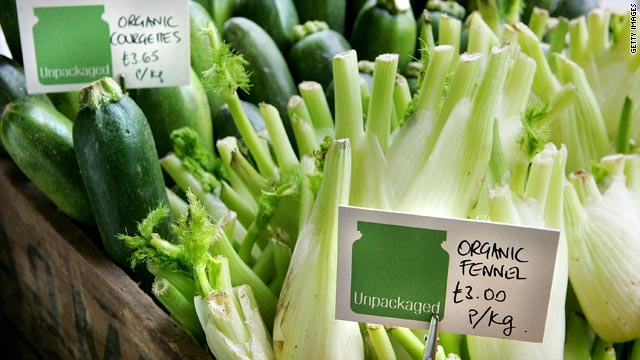 Video: Can stores profit from green premium?
Latin America is trying to catch up to the rest of the world in terms of green thinking.
--Ines Selvood, Argentine environmentalist
On a recent Saturday afternoon, hundreds of people came to the market -- most for the very first time -- and purchased items. Market managers had previously committed to using portions of their proceeds to expand the size of the market and to make more organic products available citywide.
"The buzz created by the Carrotmob brought in a lot more people than usual. We were very happy to take part in the experiment," says Federico Arce, manager of El Galpon.
The first Carrotmob took place in San Francisco in 2008 and the movement has spread. Since then 55 gatherings have taken place around the globe, from Helsinki to Bangkok.
Typically, organizers approach several small businesses and the one that commits to dedicating the highest percentage of their one-day revenue boost to becoming more environmentally-friendly wins the honor of being mobbed. Liquor stores, cafes, pizza parlors and other businesses have all benefited.
"As citizens and as consumers we may not be able to wield a whole lot of individual power, but when we do things together, our power is ridiculous," says Brent Schulkin, the 29-year-old founder of Carrotmob. "Carrotmob is going to organize our spending. Because we are the economy. We decide who gets rich," he says.
The Buenos Aires Carrotmob was organized by a small group of Argentines and expats through their nascent ecological activism group called Ambientate.
"We are always shocked that the people in Argentina are not realizing what is really going on, and how they can make things better here -- more environmental, more green," says Andresen, 26, a native of Hamburg, Germany.
Despite the best efforts of organizations like Ambientate, the everyday reality in many Latin American cities is that environmental problems are often trumped by poverty, crime and unemployment.
Environmentalists are optimistic that the concept of Carrotmobs will catch on in this region, but caution that there's still a long way to go when it comes to efforts to improve the environment.
"I think Latin America is trying with the younger generations to catch up to the rest of the world in terms of green thinking, but I think we are very far still. In order for more people to be engaged in these things, we need to address other social problems as well, and try to do this link between social and environmental problems," says Ines Selvood, an Argentine environmentalist.
Although the Carrotmob philosophy was unfamiliar to some vendors at El Galpon, they welcomed the principles of the movement.
"I bake bread in a brick oven that then goes directly from the producer to the consumer. It seems to me that the Carrotmob concept embraces that ideal, which is fantastic," says Gustavo Orrego, owner of the Casa Pan bakery.
Naturally, the business owners liked the sales boost, too.
"Today I saw that our business went up 50 percent, at least," says Nurith Jeruzalimski, who sells marinated organic olives. "I am thrilled."
With the ability to double sales in a single day, Carrotmobbers are betting that big business will embrace the concept too. The organization recently decided to incorporate itself as a non-profit and is raising money and preparing to build technology that will make it easier for more people to get involved with Carrotmob.
They also plan to soon start challenging corporations to come up with ideas that will do the most good for the environment -- and then reward them with a mobbing.