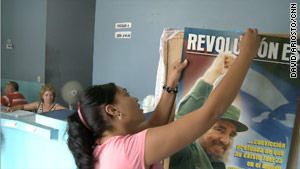 An election worker hangs a poster of former Cuban President Fidel Castro at a polling station in Havana, Cuba.
STORY HIGHLIGHTS
Nationwide vote will fill 169 assembly seats and draw millions to the poll
Election focused on local issues, not larger ones like the U.S. embargo
"Ladies In White" protesters also hit the streets Sunday
Havana, Cuba (CNN) -- Cubans hit the polls across the country Sunday, voting in municipal assembly elections that the government hopes will soften criticism about democracy -- or lack thereof -- in the communist nation.
The nationwide vote will fill 169 assembly seats and is expected to draw millions to the polls. The vote will determine municipal representation on such local issues as waste removal and electricity, as opposed to the larger political questions facing Cuba such as the near half-century-old U.S. trade embargo.
Candidates in municipalities across the country are selected by a show of hands by local monitoring groups called Committees for the Defense of the Revolution, who are also responsible for reporting suspicious neighborhood activity.
Electoral campaigning is strictly prohibited, an aspect that Cuba touts as at least one reason it considers its elections to be more democratic than in neighboring countries.
There were no reports of disruptions at polling stations by midday.
At one election site in Havana's Vedado district, polling official Jose Caesar Munez said 211 voters had shown up to cast their ballots, many arriving early to beat the sweltering Caribbean heat.
"There is no political party difference between these two (local) candidates," Munez said, hunched over a paper tally sheet used to process voters. "But there is an opportunity to change (unpopular local representatives). ... That's democracy," he said.
Others aren't so sure.
"We have these kinds of elections every two years but nothing ever changes," said Eduardo, an engineer who lives in central Havana who asked not to be fully identified. "All you have to do is walk these streets and listen to people to hear what they're saying."
Election results are expected Monday.
Meanwhile, Cuba continued to blame international media for coverage of a small group of female protesters called the Ladies in White -- the friends and relatives of jailed dissidents -- who Cuba says are "mercenaries" paid by Washington.
It says recent protests are meant to disrupt Sunday's election and officials have demanded the group seek a permit before marching.
The group has refused, continuing to march every Sunday and drawing the ire of pro-government demonstrators who often surround them during protests, waving Cuban flags and chanting such slogans as "This street belongs to Fidel."
Election day was no different.
A handful of female protesters began their march down Fifth Avenue in Havana's affluent Miramar district on Sunday and were again shouted down by a group of pro-government demonstrators who encircled them for hours in a nearby park.
Earlier Sunday at a polling station in Havana, National Assembly President Ricardo Alarcon challenged the United States and Secretary of State Hillary Clinton to lift the near half-century-old trade embargo against Cuba for a year and see what happens.
"Mrs. Clinton is a very intelligent woman, and I don't want to be rude with her," said Alarcon to news agencies in Cuba. "If she really believes the continuation of the embargo is in the benefit of our government, it's very simple for her: ask Congress to lift the embargo."
Alarcon's comments come less than one month after Clinton said it was her "personal belief that the Castros do not want to see an end to the embargo and do not want to see normalization with the United States because they would lose all of their excuses for what hasn't happened in Cuba in the last 50 years."
Sunday's municipal elections were expected to focus on far more local issues.