American missionary held in Haiti released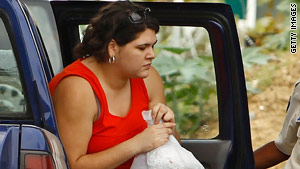 Charisa Coulter, seen after a court hearing in Haiti last month, was among 10 accused of kidnapping 33 children.
STORY HIGHLIGHTS
NEW: Last group member in custody says she expects to be released soon
Charisa Coulter is ninth member of American group to be released
Coulter was one of 10 Americans accused in Haiti kidnapping case
Group accused of trying to illegally remove children from Haiti after earthquake
Port-au-Prince, Haiti (CNN) -- Charisa Coulter, one of two American missionaries detained for more than a month in Haiti on suspicion of kidnapping 33 children after January 12's devastating earthquake, was released Monday.
She walked out of judicial police headquarters and headed to the nearby airport Monday afternoon.
Attorneys Chillier Roi and Ricardo Chachoute, who are representing Coulter and the American who still is being detained, Laura Silsby, said earlier that the judge had OK'd Coulter's release.
Silsby and Coulter were among 10 Americans stopped by Haitian authorities on January 29 as they tried to cross the Haiti-Dominican Republic border with 33 children. Authorities said the group didn't have proper legal documentation.
The 10 Americans, many of whom belong to a Baptist church in Idaho, have said they were trying to help the children get to a safe place after the 7.0-magnitude earthquake flattened cities and towns in Haiti.
Judge Bernard Saint-Vil released the eight others February 18, but Silsby and Coulter remained in custody because the judge wanted to learn more about their motives.

Video: Missionary held in Haiti freed
Silsby answered questions in Saint-Vil's office Monday. Later, she refused to comment on what the judge asked her, but she said she was happy Coulter had been released. She added that she expected to be released soon.
Silsby repeated comments denying she'd done anything wrong and said she was still in custody "because I'm the leader."
Saint-Vil said that he has some additional questions that he needs answered but that he expects to make a decision about Silsby's detention by the end of the week.
Silsby originally claimed that the children were orphaned or abandoned, but CNN determined that more than 20 of them had at least one living parent. Some parents said they placed their children in Silsby's care because that was the only way they knew to ensure a better quality of life for them.
The group said it was going to house the children in a converted hotel in the Dominican Republic and later move them to an orphanage.
After he released eight members of the group last month, Saint-Vil traveled to the Dominican Republic to see where Silsby said she intended to open the orphanage.
CNN's Lonzo Cook contributed to this report.