Clinton pushes talks in Falklands dispute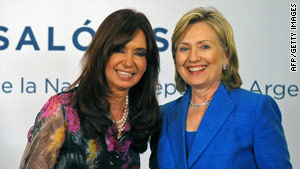 Argentine President Cristina Fernandez de Kirchner, left, poses with U.S. Secretary of State Hillary Clinton.
STORY HIGHLIGHTS
Argentina's Kirchner requests U.S. mediation over Falklands sovereignty
Both Britain and Argentina claim ownership of South Atlantic islands
Dispute reignited by drilling by British oil and gas exploration company
(CNN) -- U.S. Secretary of State Hillary Clinton said it is important for Argentina and Britain to hold talks about the disputed Falkland Islands, but she did not commit to mediating them.
Her remark came at the end of a two-hour meeting with Argentine President Cristina Fernandez de Kirchner late Monday in Buenos Aires, in which the Falklands was one of several international issues on the table.
Kirchner said she requested that the United States mediate the issue "so that we can sit down at the table and discuss sovereignty" of the islands, which are known as Las Malvinas in Argentina.
"That's the only thing we've asked for, just to have them sit down at the table and negotiate. I don't think that's too much, really, in a very conflicted and controversial world, complex in terms," Kirchner said at the end of her meeting with Clinton.
"And we agree," Clinton responded. "We would like to see Argentina and the United Kingdom sit down and resolve the issues between them across the table in a peaceful, productive way."
Clinton did not respond to Kirchner's request for U.S. mediation, but said Washington wants to encourage both sides to talk.
"We will continue to encourage exactly the kind of discussion across the table that needs to take place," she said.
Argentina has always claimed sovereignty over the Falkland Islands, which sit off its coast and have been under British rule since 1833. Argentina invaded the Falklands in 1982, prompting a war in which more than 600 Argentinean and 255 British military personnel died.
Britain keeps a military presence on the islands, and the Falkland Islands government -- representing a population of about 2,500 -- says it remains committed to British sovereignty.
The issue came to the fore again last week after a British oil rig started drilling in the North Falkland Basin, about 60 miles (100 kilometers) north of the islands.
Desire Petroleum, a British oil and gas exploration company, estimated the basin could contain 3.5 billion barrels of oil and has "significant gas potential." The exploratory drilling is expected to last about 30 days, a spokesman for the company told CNN.
The potential revenue from oil and gas reignited the dispute over the islands, and the day after the drilling began Kirchner signed a decree requiring all ships navigating from Argentina to the islands to carry a government permit.
The Argentine position is that natural resources around the islands should be protected, and Britain must accept international resolutions labeling the Falklands a disputed area.
The Falkland Islands government responded last week, saying it had "every right to develop a hydrocarbons industry within our waters."