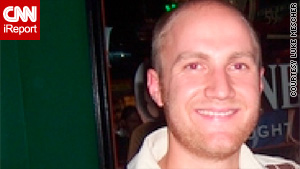 Luke Mescher said he and dozens of others scurried out of a 20-story apartment building, but it was "surprisingly orderly."
STORY HIGHLIGHTS
NEW: CNN iReporter says many homes destroyed in her Santiago neighborhood
NEW: Witness to previous quakes said this one was strongest, most long-lasting
Luke Mescher, a U.S. college student, was with host family in Chile when quake hit
Santiago, Chile (CNN) -- Sure, Luke Mescher felt a trembling fear when the walls around him started to shake Saturday, but standing around confused and scared wasn't an option.
"I was more focused on we need to get out of here and we need to get out of here as fast as we can," said Mescher, a University of Iowa student studying Spanish in Chile.
Mescher, 27, was at the home of his host family when the 8.8-magnitude quake struck early Saturday. He was talking with friends on his computer when the power went out. Immediately after, he felt a subtle vibration that progressed into a violent shaking, he said.
His host mom cried as the walls around them shook and her daughter attempted to comfort her, he said. "They were "paralyzed with fear," he said.
"I was like, we don't have time for this," Mescher said. "We need to get the hell out of here."
He grabbed his head lamp, the two women, and ran barefoot and bare-chested into the dark street.
The three met dozens others in the staircase scurrying out the 20-story apartment building, he said. The exit was "surprisingly orderly," Mescher said.
But others faced more of an ordeal.
CNN iReporter Matias de Cristobal said the earthquake destroyed many homes in her Santiago neighborhood.
Cristobal tried to climb upstairs to check on her three children -- age 6, 9, and 11 -- after she began feeling tremors on Saturday, but she was slowed by shifting ground and falling objects.
Mirko Vukasovic, a 25-year-old illustrator in Santiago, had been dancing at a club early Saturday when the disco ball began swinging wildly. A chaotic evacuation was under way when the lights went out, but everyone managed to escape, Vukasovic said. "Broken windows and falling building parts was what welcomed us in the streets," he said.
iReport: Read Mescher's firsthand account

Video: Roads ripped apart

Video: Quake damage in Chile capital
Vukasovic submitted iReport video showing the damage to his fourth-floor apartment. "What used to be a beautiful bathroom is now torn, a beautiful crack," he said as his camera panned to a pile of tile and plaster that had been shaken loose from the walls.
Some in Chile reacted to the quake with disbelief. "It was 3 or 4 in the morning and I had come home late," said Aneya Fernando, an American who teaches English in Santiago. "Suddenly my bed was moving so violently that it woke me up."
"I'm on the 10th floor of a building and it was swaying and shaking," Fernando, 23, said. "Suddenly it was just gone and I was confused. I thought it was in my head."
When Fernando's electricity returned 30 minutes later, she learned of the earthquake on TV.
Scott Ireland, a business traveler from Rochester, New York, who was staying at the Sheraton San Cristobal when the earthquake struck, submitted iReport photos of cracks in the exterior walls of his hotel.
Ireland, 48, had experienced two earlier earthquakes -- one in Turkey in 1966 and another in Southern California in 1971. "Not only was this the most severe," he said, "the duration was longer than anything I'd ever experienced. Luckily the damage here was minimal."
Meschler, the Iowa student, encountered faces of confusion and concern when he and his host family left their apartment building and entered the street.
Some tried using their phones to call out with no luck, others ran to neighboring apartment complexes, looking to help.
iReport: Watch video of damage at an apartment
Many throughout the city don't have their basic utilities, the Salvation Army reported.
Mescher doesn't have gas, but his power and water are back on.
The elderly seemed most frazzled by the rattling, he said. One elderly man had suffered a wound to his head.
When the aftershocks began and kept rolling in jolts to his Santiago neighborhood, Mescher said some neighbors prepared for a night outside of their home.
"I did see a good portion of people go back upstairs an hour into it and put together what they could," he said, speaking of a sleep away bag. "There were a lot of people that got their car and took off."
Mescher had also tested his luck, considering he was unsure of the building's stability after such a great temblor.
"After we were safely outside I made a quick run and grabbed a shirt and some shoes," he said.
About 5 a.m. (3 a.m. ET) -- about 90 minutes after the quake -- he returned to the apartment to finally get some rest, just to be rattled by another aftershock. According to the U.S. Geological Survey, a 6.9-magnitude aftershock hit Chile about that time.
Dozens of aftershocks later, Mescher was looking at cracks that had shaped around the door frames and crept up walls. Chunks of plaster littered the floors, he said.
"I've got to think there have to be some long-term structural issues," he said. "For the time being, I don't think it's going to fall on top of me."