STORY HIGHLIGHTS
Argentina and UK at odds over ownership of South Atlantic islands
Falklands government says it has "every right" to develop hydrocarbons industry
Mexican president says a number of countries in the region support Argentina's position
Venezuela's outspoken leader Hugo Chavez urges Britain to return the islands
London, England (CNN) -- A number of Latin American countries have rushed to offer their support to Argentina in its long-running territorial dispute with Britain over the Falkland Islands.
This week Britain began drilling for oil in the waters off the archipelago, despite opposition from Buenos Aires which claims sovereignty over the islands it calls Las Malvinas.
The project has reignited tensions between the two countries, who fought a brief war over the islands in 1982, with Argentine President Cristina Fernandez de Kirchner accusing London of ignoring international law.
Argentina says the natural resources around the islands, which lie in the South Atlantic Ocean off the Argentinean coast, should be protected, and Britain must accept international resolutions labeling the Falklands a disputed area.
Mexico's President Felipe Calderon weighed into the dispute late Monday when he said a number of countries in the region had drafted a document in support of their South American neighbor.
Speaking at a summit of Latin American leaders in the Mexican resort of Playa Del Carmen, Calderon claimed Ecuador, Chile, Guatemala, Bolivia and Venezuela had all backed Argentina's opposition to the drilling.
"We have approved a declaration in which leaders of countries and governments present here reaffirm their support for the Republic of Argentina's legitimate rights in its sovereignty dispute with the United Kingdom," he said in a statement issued by Argentine officials.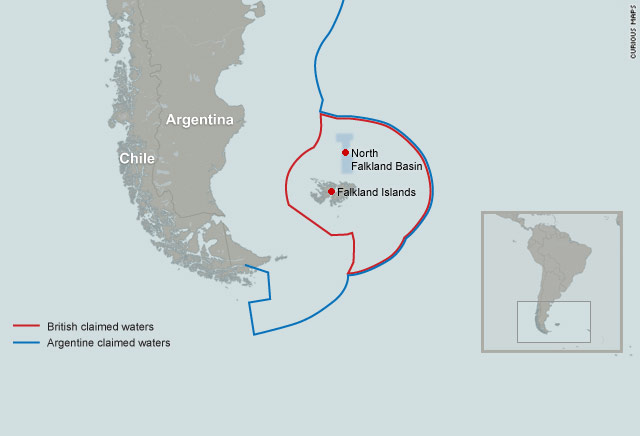 Falkalnds Islands oil dispute

Video: Falklands oil causes tension
Ecuador's President Rafael Correa offered his country's "unconditional support" to Argentina, while his Chilean counterpart Michelle Bachelet said, "We not only support our sister republic's claims to the Malvinas islands but every year we present its case to the United Nations' Special Committee on Decolonization."
Venezuela's outspoken leader Hugo Chavez also reiterated his support for Argentina. "We support unconditionally the Argentine government and the Argentine people in their complaints," Chavez told reporters Tuesday, according to Reuters.com. "That sea and that land belongs to Argentina and to Latin America."
A day earlier, Chavez had used his weekly televised address to make a direct appeal to Britain's Queen Elizabeth II. "Look, England, how long are you going to be in Las Malvinas? Queen of England, I'm talking to you," he said.
"The time for empires are over, haven't you noticed? Return the Malvinas to the Argentine people."
On Monday, British oil and gas exploration company Desire Petroleum announced that its Ocean Guardian rig had started drilling an exploration well in the North Falkland Basin, some 100 kilometers (60 miles) north of the islands.
Desire estimates that the North Falkland Basin could contain 3.5 billion barrels of oil as well as having "significant gas potential." The exploratory drilling is expected to last around 30 days, a spokesman for the company told CNN.
But the prospect of Britain making a highly lucrative discovery in region has infuriated Buenos Aires.
This has to do with the defense of the interests of Argentineans, not just about sovereignty," Argentine Cabinet Chief Anibal Fernandez said last week, adding that Argentina lays claim not just to the islands, but to any resources that could be found there.
In a statement last week, the Falkland Islands government, which represents its 2,500 residents, said it had "every right to develop a hydrocarbons industry within our waters."
"The British government has clearly stated that they support our right to develop legitimate business," it said. "The British government have also reiterated their stance on our British sovereignty."