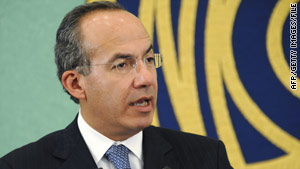 Mexican President Felipe Calderon visited Ciudad Juarez, where 200 people have been killed this year.
STORY HIGHLIGHTS
Mexican president visits Juarez, where drug violence has killed dozens this year
Calderon hears ideas from Juarez leaders about combating drug-related violence
Rival drug cartels battling each other in the city
Calderon calls for federal agents to deal with kidnappings, extortion in city
(CNN) -- Mexican President Felipe Calderon vowed Wednesday that his government "will act to the maximum of our capabilities" to restore order to the violent border city of Ciudad Juarez, Mexico.
At a meeting with a range of leaders in Juarez, Calderon asked for their help in turning the city around.
"There can be no success without [local] residents' participation," he said.
It was the president's second visit to the city in as many weeks.
Juarez is the epicenter of a bloody turf war between two rival drug cartels. Killings have become a daily occurrence as the cartels fight each other for control of lucrative smuggling routes into the United States, as well as local drug dealing in Juarez.
A massacre of 15 people, most of them teenagers, in January shocked the nation and brought Calderon to the city.
Last week, Calderon oversaw the creation of working groups representing sectors of Juarez civic life, including security, human rights and education. On Wednesday, he listened as the groups' representatives gave their analysis of the situation.
Calderon highlighted some of the ideas his government is keen on. He said immediate action should be taken on crime and violence issues, most notably kidnappings and extortion that plague the city. He called for federal agents with expertise in those cases to be dispatched to the area.
Another proposal is to restructure the system the public uses to call emergency responders, Calderon said. Juarez's equivalent to 911 is known for not responding in a timely manner.
Calderon said he liked an idea of upgrading city parks and creating new communal areas, and said the government would help extend the school day as part of a pilot program to keep youths off the streets.
In general, Calderon said, what Juarez needs are new ways of doing things. He cited a new process for the way policemen are recruited and supervised as an example.
Earlier Wednesday, the U.S. homeland security secretary met with Calderon.
Secretary Janet Napolitano and Calderon discussed security issues as Mexico wages a war on drugs that has claimed more than 15,000 lives since Calderon took office in December 2006.
Napolitano will stay in Mexico through Thursday to discuss global aviation security with other officials from the Americas and the Caribbean, the Department of Homeland Security said. She also will discuss border security with Mexican officials.
During last Thursday's visit to Juarez -- which shares a street grid system with El Paso, Texas, its sister city across the border -- Calderon apologized to the families of the 15 people killed last month and promised residents that their opinions would form part of the strategy against drug-related violence.
Residents of Juarez attempting to highlight growing frustration with Calderon's war against organized crime took to the streets by the hundreds Saturday. Many held signs calling Calderon "Assassin."
Violence in Juarez comes amid a backdrop of vastly increased numbers of homicides nationwide, as drug cartels battle each other and Mexican authorities.
National media say 7,600 Mexicans lost their lives in the war on drugs in 2009. The Mexican government hasn't released official figures for 2009, but Calderon said last year that 6,500 Mexicans died in drug violence in 2008.
More than 200 people have been killed in Juarez since the beginning of this year, media reports say.