Dominican Republic copter crash kills 2 Americans on Haiti mission
STORY HIGHLIGHTS
Victims described as friends who had left their homes, family in Florida to help Haitians
Helicopter hit mountain about 7 p.m. Thursday east of Haiti border, aviation official says
Pilot, Florida businessman were aboard; cause of crash is under investigation
(CNN) -- The two people who died Thursday night when their helicopter crashed into a mountain in the Dominican Republic were friends who had left their homes and family in Florida this week to help deliver aid to the people of Haiti, a son of one of the victims said Friday.
The accident occurred about 7 p.m. in Dajabon, just east of the border with Haiti, said Rosani Zapata, a spokeswoman for the Dominican Civil Aviation Institute.
The helicopter had filed a flight plan from Santiago to Jimani in the Dominican Republic, then on to Port-au-Prince in Haiti. It was en route back to Santiago when the crash occurred, she said.
Aboard were pilot John Ward of Fort Myers, Florida, and James Jalovec, a 53-year-old Naples, Florida, businessman who owned Sweetwater Environmental Inc., a sewage company based in Sebring.
Mark Jalovec, 21, told CNN in a telephone interview that his father began discussing the prospect of helping out a couple of days after the January 12 earthquake that devastated Haiti.
"It kind of caught everybody off guard," he said, noting that his father had never done anything similar. Still, he said, his father saw a fit. "I got a helicopter; these people are in desperate need -- he kind of decided it with Mr. Ward that they were going to do it, and that's what they did."
He said his father last called him Monday, after he and Ward had flown doctors from an orphanage outside Port-au-Prince to the Dominican Republic.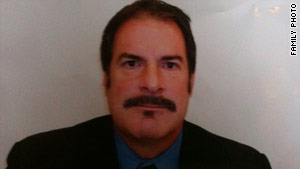 James Jalovec, a 53-year-old Naples, Florida, businessman, died in Thursday's crash.
Spencer Steadman, vice president and general manager of Sweetwater Environmental, described Ward as an experienced pilot who had long flown Jalovec to his business interests, which spanned the state. "They had an engine failure on one here about three months ago," he told CNN in a telephone interview. "He done a reverse autorotation and set that thing down. No injuries. Four people, they walked away. He was a very good pilot."
The helicopter that crashed Thursday, a Robinson R44, was two weeks old, he said.
Steadman said he was not surprised when Jalovec called him Saturday night and said he was planning to depart Sunday morning for a week in the region.
"He seen a need, and it was a challenge, and that's Jim," Steadman said. "He was hard-core business. When he done business, he done business. That's what he liked doing. He was very aggressive. ... If it was worth doing, he'd do it."
The cause of the crash is under investigation.

Part of complete coverage on

They filled the grounds in front of the collapsed cathedral in Haiti's capital Wednesday. To remember. To cope. To pray.

Can-Do founder Eric Klein spent most of 2010 in Haiti helping people recover from the devastating earthquake.

A much-awaited review of Haiti's disputed presidential election has been completed but not yet been handed over to the president.

Haiti's economy is getting a boost thanks to a venture with one of Korea's largest companies that promises to bring in 20,000 jobs.

Nadine Devilme has thanked God countless times for saving her baby and has wanted to thank the doctor who treated the child after the earthquake.

Amy Wilentz says a year after the earthquake, much of the funding to rebuild is stalled as aid organizations wait for the election crisis to be resolved.


Most popular stories right now