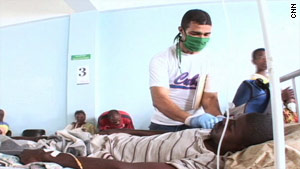 Cuban doctors move quickly to save lives at a hospital in Haiti.
STORY HIGHLIGHTS
Haitians abandoned Peace Hospital in Port-au-Prince, Cubans took over
Cuban doctors say they treat about 500 patients a day
There are many amputations that must be performed
Health care workers of all nationalities cooperating to help the injured
Port-au-Prince, Haiti (CNN) -- At Peace Hospital there are mostly haunting looks and shattered bodies among the hundreds of patients stretched out on the front lawn and lying in the halls.
But a week after a 7.0 earthquake devastated the Haitian capital, there is a glimmer of hope. Carla has opened her eyes.
The 2-year-old was pulled out of the rubble Monday, severely dehydrated but alive and apparently without any broken bones. In an improvised tent on the front lawn of the hospital, doctors hooked an IV drip to her arm. Finally Carla woke up and blinked.
"She was trapped. She answered 'mmmm' when we called out to her, but we couldn't get to her," the girl's mother said.
Peace Hospital is one of a dozen hospitals and makeshift clinics run by Cuban doctors who were among the first medics to arrive in Port-au-Prince. Local Haitian staff abandoned Peace Hospital when the quake hit, but now doctors who took over say they are treating about 500 patients a day.
They are performing many amputations.
"Now, so many days after the earthquake, those rescued are usually already suffering from gangrene," says Jorge Fran Martinez, a Cuban anesthesiologist.
He and a team of doctors are operating on the right leg of a young woman. They hope to save it because as soon as they are finished with that procedure, they will have to amputate her left leg.

Video: U.S. choppers bring aid

Video: Haiti as it happened

Video: Cuban doctors helping in Haiti
In the corridor, another little girl on a stretcher quietly whimpers. Her face was crushed by a building, and she was trapped under the rubble for so long her chin was infected by maggots.
"The problem is all of the patients are critical," said Luis de la Fuente, head of a Spanish team of doctors helping out. "And we have to decide who will be the first to be operated on."
More than 300 Cuban doctors were already in Haiti carrying out humanitarian missions when the quake hit. Now there are 450, and they've been joined by 400 Haitian medics trained at Cuban schools, as well as doctors from dozens of other countries who don't have their own field hospitals yet.
Canadian medics attend to first arrivals on the front lawn of Peace Hospital while American search and rescue experts interview patients to locate more trapped survivors.
A Spanish nurse lends a hand to Mexican and Cuban doctors evaluating whether a woman with an injured pelvis needs emergency surgery.
Haitian surgeon Canton Wilsus was on leave from a Cuban hospital when the quake hit. Now he's in the operating room 15 hours a day.
"We are ready to stay in Haiti as long as the people need us," he said.
Nearly 10,000 patients have been treated at various Cuban-run hospitals.
And there's no end to the injured.
In front of Peace Hospital, some of those recovering from injuries and others still awaiting treatment have erected tents.
Doctors are hoping they will have fewer emergency operations in the days and weeks ahead so they will be able to spend more time keeping alive those who have made it this far.