U.S. team ends fruitless search in day care center rubble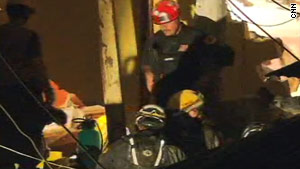 Los Angeles County Search and Rescue workers have recruited bystanders to gather wood to shore up the dig.
STORY HIGHLIGHTS
Los Angeles County Search and Rescue spends hours digging in rubble
Late Saturday, team determines there are no more signs of life
In another part of town, woman texts that she is alive and trapped in bank building
Other teams work to free five people trapped in collapsed grocery store
Port-au-Prince, Haiti (CNN) -- A team with Los Angeles County Search and Rescue answered Saturday the desperate but futile pleas of a mother who believed her young daughter was trapped alive beneath the rubble of a day care center in downtown Port-au-Prince.
Despite the distinct sounds of tapping from within the crushed concrete, the rescue effort turned into a recovery operation eight hours after it began when crews failed to get further responses from whoever was trapped inside.
Search and rescue personnel determined there was no one still alive inside the structure and left the site.
The mother had stood praying silently while watching the rescue efforts, four days after a magnitude 7.0 quake devastated the impoverished island nation. She remained there as the rescue personnel pulled away, still holding onto the hope her daughter was alive.
Despite the heartbreak, there were a few bright spots on a day when hopes were dimming for possible survivors still buried. One man was pulled from the rubble Saturday, according to U.S. Secretary of State Hillary Clinton, who was visiting the quake-battered capital Saturday.
"We are grateful for that rescue," she said.
No other details were immediately available.

Video: Hopes fade at day care

Video: Text message: Please find us
Elsewhere in the capital, two rescue crews from Miami-Dade County, Florida, and Los Angeles County said they were responding to a text message from a 30-year-old woman beneath the ruins of the collapsed bank where she worked. Dogs have picked up the scent of survivors within the rubble several times, but so far the rescue crews haven't seen or heard anything with high-tech cameras and listening devices.
Another woman is also believed to be alive under the building, the rescue crews said. The rescue personnel were working through the night to reach them.
Also rescued Saturday: a 2-month-old baby in critical condition with injuries that included broken ribs. Rescue personnel worried she could contract a deadly case of pneumonia and doctors rushed her to the airport where she was evacuated to Jackson Memorial Hospital in Fort Lauderdale, Florida.
Meanwhile, an urban rescue team from the New York police and fire departments was attempting to free five people trapped in the rubble of a grocery story in Port-au-Prince. The rescue began Saturday evening after individuals alerted a member of the team to the situation, according to a statement from New York Police Department spokesman Paul J. Browne.
The five have been in verbal communication with the 16-member team and say they have been surviving on food and water that was in the store, the statement said.
American officials said search and rescue operations will continue through the weekend.

Part of complete coverage on

They filled the grounds in front of the collapsed cathedral in Haiti's capital Wednesday. To remember. To cope. To pray.

Can-Do founder Eric Klein spent most of 2010 in Haiti helping people recover from the devastating earthquake.

A much-awaited review of Haiti's disputed presidential election has been completed but not yet been handed over to the president.

Haiti's economy is getting a boost thanks to a venture with one of Korea's largest companies that promises to bring in 20,000 jobs.

Nadine Devilme has thanked God countless times for saving her baby and has wanted to thank the doctor who treated the child after the earthquake.

Amy Wilentz says a year after the earthquake, much of the funding to rebuild is stalled as aid organizations wait for the election crisis to be resolved.


Most popular stories right now