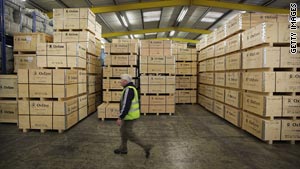 Foreign aid, including this shipment of water sanitation equipment from England, is on its way to Haiti.
STORY HIGHLIGHTS
Haitians are calm because "they're in shock and despair," hotel manager says
"Everyone's trying to help each other a lot. We're not a violent nation," Agnes Pierre-Louis says
However, there is history of looting, rioting during difficult times, she says
Diesel selling on the black market for $25 a gallon; it's usually $3 a gallon
Port-au-Prince, Haiti (CNN) -- Friday dawned clear and calm in Haiti's capital, but there were increasing concerns that the peace may not last.
Many residents of Port-Au-Prince have not had food or water since Tuesday's devastating 7.0-magnitude earthquake, and worries are growing about what could happen in the next few days if aid does not get in their hands quickly.
Haitians, many of them living on sidewalks or in parks and plazas, are calm now because "they're in shock and despair," said Agnes Pierre-Louis, manager of her family-owned hotel in central Port-au-Prince.
The hotel is one of the few lodging establishments still standing in the city.
Although there is relative calm, there was sporadic looting and violence Thursday afternoon.
"If help doesn't come quickly, it probably will [get worse]," Pierre-Louis said. "We're not hearing anything from the government. We're not seeing any foreign aid yet.
"There are bodies in the street, and we have nowhere to put them," she said.
Foreign aid is starting to arrive, but it does not seem to be making it into residents' hands. None of it has reached central Port-Au-Prince, where thousands of Haitians are living in the large Champs de Mars square.
The task at hand is not easy, but clearly defined, Pierre-Louis said in the dark, predawn hours Friday.
"The first thing they need to do is get basic water and get bodies out of the street and rescue whoever they can rescue," she said.
It would take some doing for the situation to get even uglier than it is now, she said.
"Traditionally, for what we go through in Haiti, the population is extremely calm, and everyone's trying to help each other a lot," she said. "We're not a violent nation."
But recent history gives her cause for concern. Hunger riots in April 2008 led to widespread looting and violence.
"All buildings that had windows were smashed," she said. "They took everything, including toilets. It took us three months to recover from that."
She worries about a similar occurrence.
The hotel has a shotgun-wielding guard at the public gate on a side street and an unarmed employee who watches the front area, which is closed off on the ground floor to the major thoroughfare.
A large second-floor balcony is open to the street, though, and a guard caught three men climbing into it early Friday morning.
"If I were on the outside, I'd try to get in," Pierre-Louis said. "Wouldn't you?"
She can't obtain additional security because many of her employees can't get to work. Public transportation has broken down, and they live too far to walk.
Of the hotel's usual 84 employees, she's down to 10.
Pierre-Louis is also concerned about food and fuel. The hotel has enough food in its larders for another couple of days. And the establishment has maintained electricity through parts of the day because it has its own diesel-fuel generators.
But Pierre-Louis doesn't know where she will get food when she runs out, and diesel is selling on the black market for $25 a gallon. It usually sells for $3 a gallon.
"We're in for a bad situation," Pierre-Louis said. "And you feel helpless."