Obama to get update on terror plot inquiry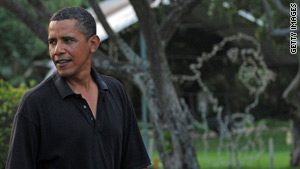 President Obama will meet top security officials for an update into airport security lapses.
STORY HIGHLIGHTS
President Obama to meet top security officials for update on alleged terror plot
Obama will be briefed by FBI director Robert Mueller on the agency's investigation
Umar Farouk AbdulMutallab is suspected of attempting to destroy an aircraft on Christmas day
Washington (CNN) -- President Barack Obama will meet with his top security officials Tuesday to get an update on the inquiry into security lapses that allowed a bombing suspect to board a U.S.-bound flight.
Obama will meet with FBI Director Robert Mueller, Attorney General Eric Holder and Secretary of Homeland Security Janet Napolitano Tuesday, an administration official told CNN.
Obama will get an update from Mueller on the FBI's investigation. Obama will get information from Holder on the prosecution of the suspect in the botched Christmas Day airline bombing. And he will get an update from Napolitano on her review on detection capabilities, the official said.
After the meeting, Obama will make public statements about his findings and an initial series of reforms to improve the country's ability to thwart future attempts to carry out terrorist attacks, according to the official.
The president met with Deputy National Security Adviser John Brennan for 90 minutes on Monday and is scheduled to meet with him again Tuesday, the official said.
Brennan will give Obama an update on his review of the terror watch listing system.

Video: Militant Islam in Nigeria
According to authorities, a Nigerian man tried to detonate explosives hidden in his underwear as a flight from Amsterdam, Netherlands, made its final approach to Detroit Christmas Day. The device failed to fully detonate, instead setting off a fire at the man's seat.
The bombing suspect -- 23-year-old Umar Farouk AbdulMutallab -- was arrested on charges of attempting to destroy an aircraft. He will face his first court hearings on Friday.
Last week, Obama blamed human error and security lapses for the failure by U.S. officials to act on information that the Nigerian bombing suspect was a possible terrorist threat.
AbdulMutallab had a multiple-entry U.S. visa. His father, a leading banker in Nigeria, warned U.S. authorities before the attack that his son might be involved with Islamic extremists, but the information failed to prompt a response such as canceling the visa.