South Africa asked to join emerging powers bloc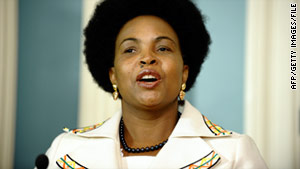 Maite Nkoana-Mashabane, minister of international relations and cooperation for South Africa, applauded the invitation.
STORY HIGHLIGHTS
The African powerhouse was asked to join BRIC -- Brazil, Russia, India and China
BRIC nations account for almost half of the world's growth
That trend is expected to continue
Johannesburg, South Africa (CNN) -- Established already as a key player in Africa, South Africa boosted its image Friday after it was formally invited to join a federation of soaring global economies.
China, South Africa's largest trading partner, extended the formal invitation, said Maite Nkoana-Mashabane, South Africa's minister of international relations and cooperation.
She expressed appreciation at the invitation to join the so-called BRIC -- Brazil, Russia, India and China.
Nkoana-Mashabane had written to her BRIC counterparts last year to push for South African membership.
"The rationale for South Africa's approach was in consideration of a matter of crucial importance to BRIC's Member States, namely the role of emerging economies in advancing the restructuring of the global political, economic and financial architecture into one that is more equitable, balanced and rests on the important pillar of multilateralism," she said.
"Our approach to intensifying our relations with emerging powers and other countries of the South is, of course, through active and strong bilateral engagement."
The BRIC countries account for about half of global growth and represent 40 percent of the world's population.
"In the coming decade, we expect this trend to continue and become even more pronounced," a Goldman Sachs report on BRIC said.
Though South Africa is considered an economic powerhouse on the continent, it has been suffering from a recession and high unemployment.
FOLLOW THIS TOPIC