Zimbabwe elections likely to be delayed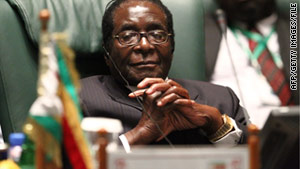 Zimbabwe's President Robert Mugabe, 86, said last week he wanted quick elections to end the coalition government.
STORY HIGHLIGHTS
Western powers urge government to ensure free vote
President Robert Mugabe wants a quick vote to end a power-sharing government
First, a referendum on a new constitution has to take place
(CNN) -- The United States and other western powers appealed to Zimbabwe's tenuous power-sharing government to ensure a fair and free presidential vote, but officials said an election would not take place anytime soon.
A presidential election can only be held after a referendum on a new constitution, which likely will be delayed at least until October, said Douglas Mwonzora, joint-chairman of the Parliamentary Select Committee (COPAC), which is drafting the new constitution.
Mwonzora blamed a lack of funds for the delay. The process has also been slowed by political infighting.
"It is very unrealistic to expect the document in or before September," he said, dampening President Robert Mugabe's hopes for an early 2011 vote. "The timeline we are targeting to complete the exercise is October next year which is the earliest a referendum can be held. We have that target in mind assuming that there are no further disturbances."
Zimbabweans hope a new constitution will guarantee human rights and afford greater political and press freedoms.
Mugabe, 86, said last week he wanted quick elections to end the coalition government. His push for polling has stoked fears of more turmoil in the troubled African nation.
Mugabe, a guerrilla leader who was hailed as a hero of Zimbabwe's freedom struggle when he came to power three decades ago, has established himself over the years as one of Africa's most ruthless dictators. However, his power has weakened as evidenced in the 2008 election.
Mugabe's rival, Morgan Tsvangirai, won that vote but Mugabe refused to cede power. He agreed to form a unity government with Tsvangirai and Deputy Prime Minister Arthur Mutambara after African regional leaders refused to recognize the legitimacy of a runoff.
The coalition government, however, has been marred by serious disagreements between Mugabe and Tsvangirai. Many believe that an election is the only solution and Western powers have leaned on Harare to create conditions for a democratic vote.
The Friends of Zimbabwe group -- which includes the United States and several other developed countries, the United Nations, the World Bank and the African Development Bank -- released a statement Wednesday that expressed "serious concerns" over the "protection of fundamental rights, the rule of law, governance and respect for agreements."
"Credible and legitimate elections in line with Southern African Development Community guidelines, that are free of violence and that accept the will of the people, are central to democratic transformation in Zimbabwe," the statement said.
"To reach this point, the Zimbabwean government needs to create the enabling environment, and agree on and implement significant reforms. Zimbabweans should not face violence and intimidation to cast their votes."