Preparations under way for Sudan vote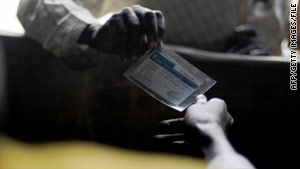 A resident of the Southern Sudan village of Nyal receives his voting card from a referendum worker at a local school.
STORY HIGHLIGHTS
People in Southern Sudan will vote next month on whether to declare independence
A plane carrying 45,000 pounds of ballots has arrived in Southern Sudan
The referendum is a key provision of the 2005 peace treaty that ended civil war
(CNN) -- A plane carrying thousands of ballots has landed in Southern Sudan ahead of a pivotal referendum there next month.
The plane carried nearly 45,000 pounds (20,400 kilograms) of ballots. People are scheduled to begin voting on January 9 on whether Southern Sudan should become independent or remain part of a unified Sudan.
Staff with the U.N. Integrated Referendum and Electoral Division checked the packed ballots after they landed Wednesday at the airport in Juba, the capital of the autonomous southern region of Sudan. The ballots were then loaded onto trucks and sent to a secure location.
The Integrated Referendum and Electoral Division has set up a panel of experts to help oversee the voting. The chairman of that panel, former Tanzanian President Benjamin Mkapa, noted the historic nature of the voting, which will last from January 9 to January 15.
The referendum is a key provision of a 2005 peace treaty that ended a north-south civil war in Sudan. The war killed 2 million people and displaced several million others, mainly from Southern Sudan, from 1983 to 2005.
It pitted a northern government of Arab Muslims against blacks in Southern Sudan who practice Christianity and animist religions.
FOLLOW THIS TOPIC