Greeting card project helps slum women
STORY HIGHLIGHTS
Kibera Paper Card Project turns waste paper into greeting cards
The initiative supports 26 women in Nairobi's largest slum
The project helps women who have been widowed, orphaned or abandoned by their husbands
Nairobi, Kenya (CNN) -- In the largest slum in Nairobi, Kenya, some of the community's poorest women are taking part in project that is spreading the true meaning of the holiday season.

In 2001, an Anglican missionary from Australia started the Kibera Paper Card Project to help disadvantaged women in the sprawling Kibera slum.
The initiative began with a group of six women making greeting cards from recycled paper. Nine years later and it has expanded to employ 26 local women.
"It's for women who are widowed, some of them are orphaned, some of them are abandoned by their husbands, so they make cards to meet their needs," said Kibera Paper Card Project coordinator Emma Wathura.
Wathura said the project focuses on helping women because "women are the ones who care for the family."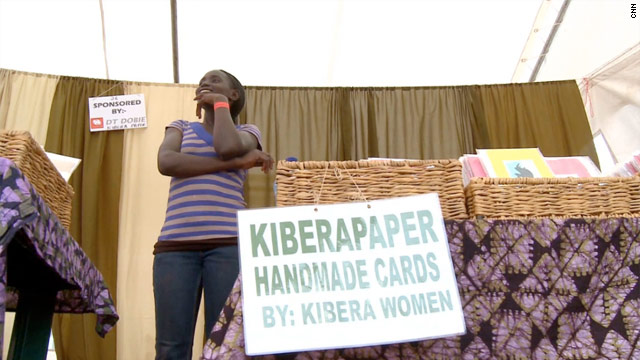 Gallery: Season's greetings from slum
Agnes Awour is one of those benefiting from the project. She used to struggle to put food on the table, but joining the group has helped, she said.
"It enables me to buy food and clothes and pay school fees," she said. "Even my children are happy about it."
The women involved in the project see the card making process through from beginning to end. They collect scrap paper from Nairobi businesses and soak and dye the paper, turning the waste into pulp and then the pulp into new paper.
The paper is then dried before the women's creativity transforms what was once rubbish into beautiful greeting cards.
"Yeah there is money," said Wathura. "For one thing, we don't spend a lot. Because the recycled paper we are given is free."
At the Nairobi Christmas Fair, where thousands descend every holiday season, the cards are proving popular.
In a business where message is key, the Kibera Paper Card project offers its customers much more than just a greeting: Shoppers know that by buying these cards, they're changing lives.
FOLLOW THIS TOPIC