Mugabe, Tsvangirai: We'll work together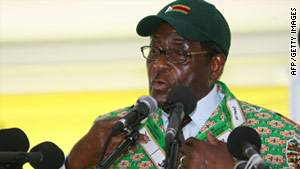 Zimbabwean President Robert Mugabe says he and prime minister Morgan Tsvangirai are not at war.
STORY HIGHLIGHTS
Mugabe and Tsvangirai say they are happy at how the economy has improved
The two formed a unity government last year
It has been marred by serious disagreement
Tsvangirai: "This inclusive government will not collapse"
(CNN) -- President Robert Mugabe and Prime Minister Morgan Tsvangirai say that despite being "at each other's throats," they will continue working together in Zimbabwe's coalition government until elections are held.
In a rare joint briefing to the media Monday, both Mugabe and Tsvangirai said they were happy with the way Zimbabwe's economy has improved since the two erstwhile enemies formed a coalition government last year.
"We are different parties; we go at each other at party level. Yes. But let it not be said that we are dysfunctional, (that) we are at war. No," said Mugabe, 86, defending an attack he made on Tsvangirai at a party conference over the weekend.
The former guerilla leader was flanked by Tsvangirai and deputy Prime Minister Arthur Mutambara with whom he formed a unity government last year. That followed African regional leaders' refusal to recognize a presidential run off which Mugabe had declared himself the winner in 2008.
Tsvangirai, who had won the first round, pulled out citing violence targeting his supporters.
The coalition government has been marred by serious disagreements between Mugabe and Tsvangirai leading to many pointing an election as the only panacea.
But critics have urged Harare to create conditions ideal for free and fair elections.
"This inclusive government will not collapse. We will make sure that it does not collapse," said Tsvangirai, adding that there was a "camaraderie" with his former political enemy.
Over the weekend, Mugabe told his supporters that he was tired of working with Tsvangirai and wanted elections next year.
But after meeting with Tsvangirai and Mutambara, Mugabe said that the coalition had given Zimbabweans "a sense of togetherness."
Both Mugabe and Tsvangirai said Zimbabweans would go to elections once a referendum for a new constitution has been held.
But they refused to give a date for the voting.
"The inclusive government is a transitional mechanism... that will lead to an election," Tsvangirai said. "I am sure the country has benefitted from this inclusive government."
FOLLOW THIS TOPIC