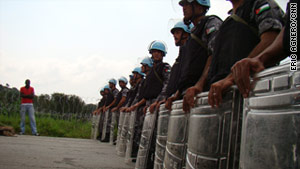 Witnesses say at least nine unarmed protesters in Ivory Coast's largest city were killed by security forces.
STORY HIGHLIGHTS
NEW: Disputed president is considering hiring an outside mediator to settle vote fraud charges, his U.S. attorney says
Six-month U.N. extension comes days after incumbent president orders them to leave
The Obama administration and world bodies have asked the incumbent to step down
Controversy over runoff results has sparked violence across Ivory Coast
United Nations (CNN) -- The United Nations Security Council on Monday extended its peacekeepers' mission in Ivory Coast through June 30, despite an expulsion order days earlier by the West African nation's disputed incumbent president, Laurent Gbagbo.
The peacekeepers' mission had been scheduled to end December 31.
Head of U.N. peacekeeping Alain Le Roy told reporters Monday that the council's decision was unanimous.
"We consider it's not right for us to leave. We have a mandate to fulfill and we are not going to leave," Le Roy said.
"We are resupplying," he added. "We know it's going to be very delicate and dangerous. That's why it's so important to have unanimous support of the council."

Ivory Coast president digs in his heels

Deadly Ivory Coast unrest
Meanwhile, Gbagbo is considering hiring an objective outside mediator to investigate allegations of election fraud, according to a prominent American attorney hired by him to advise on options for resolving the crisis.
But the U.N. Security Council joined several other world bodies in calling for Gbagbo to step down after a contested election, with many world leaders saying Alassane Ouattara won the November runoff.
On Monday, the Obama administration joined that international chorus.
"The results are clear, and it's time for him to go," White House Press Secretary Robert Gibbs said of Gbagbo.
Susan Rice, the U.S. ambassador to United Nations, said Monday that she was aware of reports of Gbagbo hiring mercenaries. Le Roy confirmed later Monday that some mercenaries are working with Ivorian forces.
"If they are confirmed, they would be of grave concern not only to the United States but to the entire Security Council," Rice said.
A U.N. spokesman said Monday that "any attack on peacekeepers will be held accountable."
Lanny Davis, who served as special counsel to President Bill Clinton for two years, said Gbagbo is renouncing the violence that has enveloped Ivory Coast since its disputed presidential election.
Davis said he suggested the government hire former South African President Thabo Mbeki, who helped resolve violence in the Ivory Coast in 2005, or some other world leader respected by all parties to seek resolution to the country's presidential election dispute.
Ivory Coast's Independent Electoral Commission declared Gbagbo's main challenger Alassane Ouattara the winner December 2, but the country's Constitutional Council, closely aligned with Gbagbo, threw out some votes from the Ouattara-friendly Northern areas due to what it said were "flagrant irregularities." Gbagbo refuses to step down.
"I've urged the Ivory Coast government to be fully transparent as to all the reasons why the Constitutional Council determined that Gbagbo was the winner," Davis said at a press briefing Monday.
The government said in a statement that it has obtained videotape depicting incidents of voter suppression and intimidation of Gbagbo supporters, along with other evidence of fraud.
Davis, who insisted he is not trying to prove who won the election, said the international community should reserve judgment until all the facts are thoroughly examined.
State Department Spokesman P.J. Crowley said Monday the United States is continuing to prepare targeted sanctions on Gbagbo, his immediate family, and his inner circle, but that any travel sanctions would not impede his ability to leave the country.
"Nothing that we decide to do would impede his stepping down and making way for the government of President-elect Ouattara," Crowley told reporters.
Davis said he has not personally spoken with Gbagbo.
"Mr. Gbagbo opposes violence and has authorized me to say he wants a mutual renunciation of violence and calls on Mr. Ouattara to join him on putting the arms down and let's sit down and talk," Davis said.
"He's not saying my way or the highway," Davis said.
But in a statement Saturday, U.N. Secretary-General Ban Ki-moon said, "the international community has spoken with one voice regarding Mr. Gbagbo's attempt to hold on to power," noting statements also from the African Union and Economic Community of West African States.
Gbagbo has remained defiant, and earlier Saturday he ordered all U.N. peacekeeping forces out of the country.
Ban responded by saying the peacekeepers will remain to "monitor and document any human rights violations, incitement to hatred and violence, or attacks on U.N. peacekeepers."
Two U.N. military observers were hurt Saturday in an attack by what Ban called "Young Patriots," according to the statement issued by the secretary-general.
On Friday, six armed men wearing military uniforms and traveling in a civilian vehicle opened fire on U.N. peacekeepers in Sebroko, according to a statement Saturday on the peacekeeping operation's website. The U.N. troops returned fire. There were no reports of injuries.
Ban reiterated Saturday that "any attack on U.N. forces will be an attack on the international community and those responsible for these actions will be held accountable."
"There will be consequences for those who have perpetrated or orchestrated any such actions, or (who) do so in the future," Ban said.
The Gbagbo government accuses the U.N. of providing military and logistical support to the former rebels, who are backers of Ouattara's. In a Friday national television appearance, Ivory Coast Army Col. Gohourou Babri accused the United Nations of transporting armed Ouattara supporters to various sites across the country to launch attacks.
Babri said four former rebels were killed Saturday in an attack by government forces on a camp in Trebissou near the cease-fire line. His claims could not be immediately verified.
And at least nine unarmed protesters in Abidjan, Ivory Coast's largest city, were shot and killed by security forces during demonstrations Thursday, witnesses told Amnesty International. The violence erupted as troops loyal to the incumbent president and supporters of his challenger confronted each other.
Ban said Friday that Gbagbo's efforts to stay in power "cannot be allowed to stand," adding that anything other than his removal from office "would make a mockery of democracy."
"The results of the election are known. There was a clear winner. There is no other option," Ban said.
CNN's Whitney Hurst, Michael Pearson, Tom Cohen and Michael Martinez contributed to this report.
FOLLOW THIS TOPIC