Leaked cable on Kenya slams 'culture of impunity,' warns of violence
STORY HIGHLIGHTS
Ambassador's cable says reforms are not taking place fast enough
More than 1,000 people died in postelection violence in 2007
"A culture of impunity" persists, the cable says
Spokesman: Cable is "malicious"
Nairobi, Kenya (CNN) -- Unless 'rampant' corruption is curtailed, Kenya's next election could descend into a bloody crisis much worse than the last one, the U.S. ambassador to the East African nation has said.
In a leaked confidential cable to Washington written in January -- and published by the website WikiLeaks -- Ambassador Michael Ranneberger argued that "failure to implement significant reforms will greatly enhance prospects for a violent crisis in 2012 or before -- which may well prove much worse than the last post-election crisis."
Over one thousand people were killed and hundreds of thousands pushed out of their homes following a disputed late-2007 election in Kenya. A coalition government was formed, promising crucial reforms to avoid future chaos.
But for the U.S. government's top diplomat in the country, those reforms were not taking place fast enough.
The cable states that the culprit is widespread senior government corruption.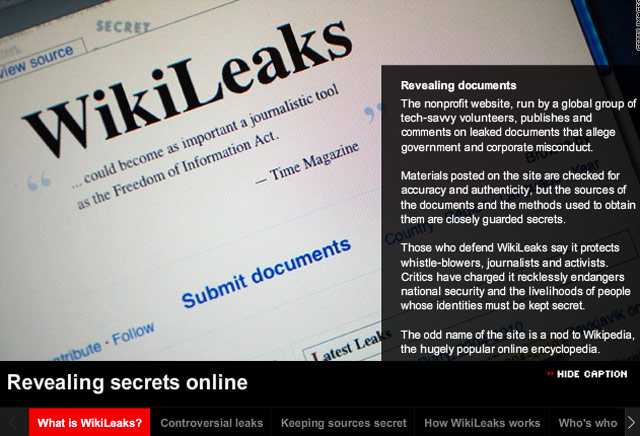 What is WikiLeaks? Here's how it works

Julian Assange's legal tangle

Hacker 'activists' target MasterCard
"No significant steps have been taken against high-level corruption," writes Ranneberger.
"While some positive steps have been taken, the old guard associated with the culture of impunity continues to resist fundamental change," says the cable.
The ambassador gives a scathing assessment of the country's ruling elite as the major stumbling block to reform. The cable implicates both President Mwai Kibaki and Prime Minister Raila Odinga and most of the cabinet members as part of the corrupt group running the country.
Kenya is a key strategic ally to the U.S. government because it provides a relatively stable buffer against Somalia to the North and Sudan to the West. Kenya is also East Africa's largest economy and a major trade hub for the region.
Kenya's government spokesman Alfred Mutua said the cable was "totally malicious and a total misrepresentation of our country and our leaders. We are surprised and shocked by these relations."
Mutua added, "Some of the statements, for want of a better explanation, look like fiction to us. It is their personal interpretation of events, they are not God and they can't always get it one hundred percent right. Some of the information is way off the map."
The government has pointed to key developments since the cable, such as passing a new constitution in August, to show that Kenya is moving in the right direction.
But Ranneberger, who is a popular figure among many ordinary Kenyans, hints that a democratic revolution of sorts is the only solution.
"The old guard of vested interests knows we and others are fanning the winds of change -- always stressing the need to work peacefully within the democratic process -- and feels threatened by that," the cable says.
"The political elite are planning several chess moves ahead. While we are no mean chess players ourselves, it is very difficult to anticipate their next more or motives behind the reform steps."
FOLLOW THIS TOPIC


Part of complete coverage on

What next for WikiLeaks editor and founder Julian Assange, now that he's been released on bail in the UK?

Julian Assange says the sexual misconduct charges against him are little more than an effort to discredit him and his organization.

WikiLeaks editor walks out of London court after being freed on bail nine days after being arrested for questioning about alleged sex crimes in Sweden.

In 2006, Julian Assange was apparently looking for a date. After launching WikiLeaks, he evidently created a profile on OkCupid.com.

A court in London found itself in the world's spotlight, as a small army of celebrities turned up to offer support -- and bail money -- to Julian Assange.

The founders of Openleaks.org say they are former WikiLeaks members unhappy with the way the organization is being run under Julian Assange.

Hackers who support WikiLeaks want others to replicate the attacks they say took down the websites of MasterCard and Visa.

Does Julian Assange's threat to release "Doomsday Files" from Wikileaks carry validity?


Most popular stories right now